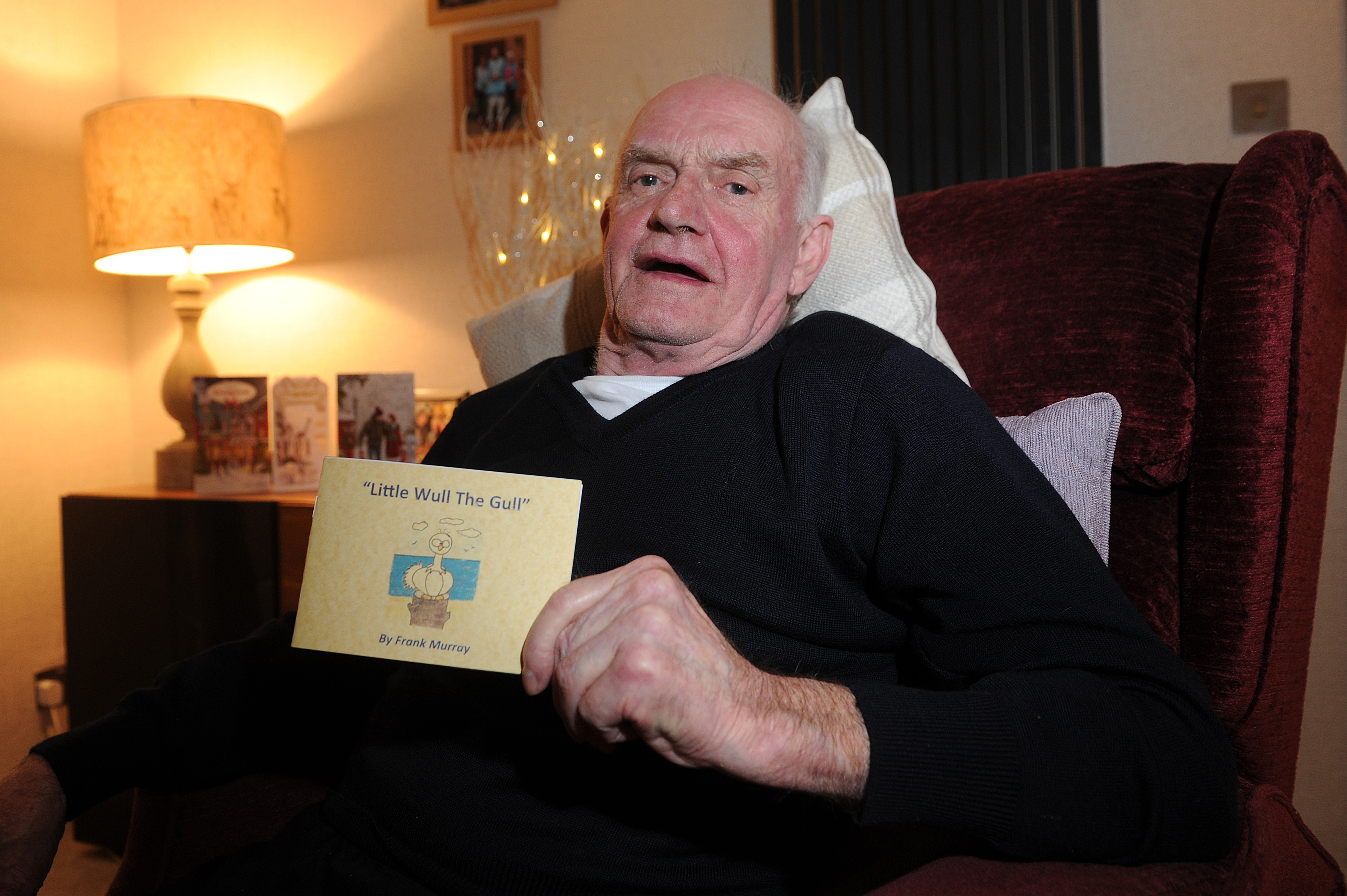 An Arbroath man who suffers from motor neurone disease has written a children's book based on his life as a seagull catcher.
Frank Murray, 74, was employed by the council to move seagulls and their nests in Arbroath during the mid to late 1980s.
His experiences in this job has led to him writing Little Wull The Gull, which tells the story of a baby seagull becoming stuck in a TV aerial.
Profits from sales of the book will go to the Motor Neurone Disease Scotland.
"You wouldn't believe the amount of seagulls that got trapped into TV aerials," said Frank.
"I was a steeplejack at the time and had the contract with the council for a few years.
"Over the summer period we moved all the seagulls nests and eggs. We moved them into an industrial estate in Kirkton.
"When I was young the gulls used to get fed at the harbour, but then the fish guts stopped being thrown into the sea because they could make cat and dog food from them.
"It meant there was nothing to eat and they started coming into the town.
"They choked all the drains up, they were sitting behind chimneys. They made a lot of mess and the young ones would sometimes attack people in their gardens.
"We moved the gulls to the industrial estate so no one was bothered by them. I was all over Arbroath for the council. I think I've been in every roof in the High Street."
Frank was diagnosed with motor neurone disease a year ago and now uses an electric wheelchair.
One of his friends did a charity cycle to raise funds for research into the disease which inspired Frank to write a book for the charity. It has been illustrated by professional artist Valerie Shuff.
"When my pal said he was doing a cycle I thought I can't do that now, but I could write a story to try to raise money that way," Frank continued.
"I wrote it a couple of months ago and then Val has illustrated it.
"We ordered 300 books and got them earlier this month and we've sold more than 200 already, so we've ordered another 300."
The books, priced £4, are available from several places in Arbroath including the golf club, Lochlands Bar and the newsagent opposite the train station in Keptie Street.
Frank is hoping to raise a four-figure sum for charity and has already thought up a follow-up story.
He added: "It's been a brilliant reaction. I can't believe how well it's gone.
"I've got another story in mind. I've got three grandsons and many years ago, when I was working on the church in Ponderlaw, they asked me how I would get up a roof higher than that.
"I said I've got a yellow helicopter with ladders on the side and this went on for years.
"So I've written a story about them saving someone on a steeple with a yellow helicopter."