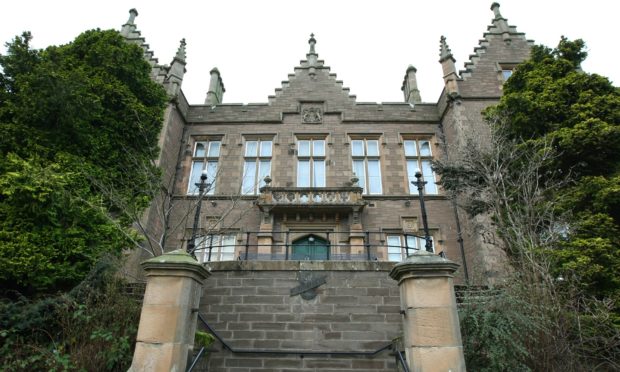 A Tayside couple have been given a behaviour warning after assaulting a barmaid and patron in an "appalling" pub rammy.
Michael Flannery and Marion Mostyn assaulted two women at a Montrose pub after they were refused service due to intoxication and asked to leave last year.
The couple, formerly of Seagate in Montrose and now of Ladywell Avenue in Dundee, appeared at Forfar Sheriff Court and admitted offences at the Northern Vaults pub in the town's North Esk street.
Flannery admitted causing a breach of the peace, shouting and swearing, assaulting bar worker Pauline McFarlane and punching her on the head on August 6.
He and Mostyn both admitted assaulting bar patron Gladys Humble by punching her on the head.
And Mostyn further admitted causing a breach of the peace by shouting, swearing and seizing hold of a pool table ball.
Depute fiscal Jill Drummond said: "At 11.30pm on August 6 both accused entered the Northern Vaults bar in Montrose, and they had a black Staffordshire bull terrier with them."
The couple were said to be in "high spirits" but noticeably intoxicated and had a couple of drinks in the bar.
"Witness McGarry, a barmaid, decided they were both too intoxicated to be served," Ms Drummond added,
"Witness McFarlane, also a barmaid, asked both to leave and struggled to get a glass from Flannery.
"He punched her to the left side of the face.
"Mostyn grabbed a pool ball from a nearby table and was restrained by Ms McGarry, and Flannery was forcefully removed by patrons."
After both were ejected, Rhonda McGarry stood at the door to prevent them getting back in.
Ms Drummond added: "Flannery then punched witness Humble, she got herself back on to her feet, and accused Mostyn then punched her on the face."
Police found the couple sitting in the street shortly before midnight.
Previous convictions for Mostyn, 59, were admitted by defence agent Lynne Sturrock.
She said Flannery, 50, is a self-employed plasterer and recovering alcoholic who has left the workplace to address issues with drinking.
"He had been drinking for a few days and his recollection is limited," she said.
"They have removed themselves from the Montrose area and have not returned."
Sentence was deferred to April 13 for good behaviour, and they were ordained to appear.
Sheriff Gregor Murray told them: "You behaved appallingly to two people, who were simply trying to do their jobs.
"It is in my mind to order each of you to do a number of hours of unpaid work."