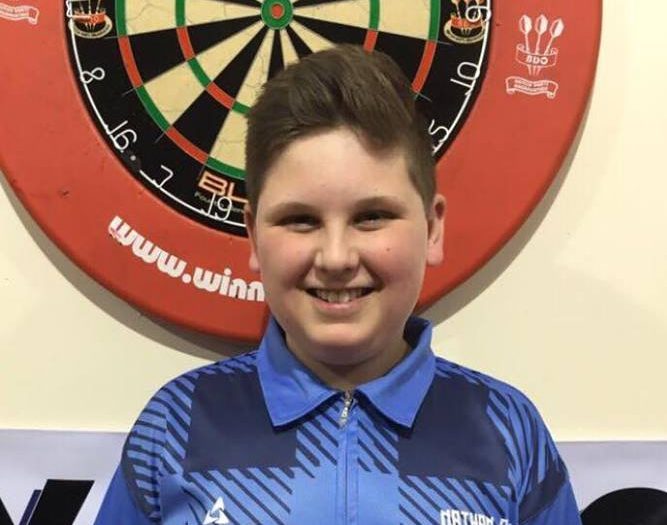 Angus darts wonderkid Nathan Girvan has lost in his bid to become a world champion.
The youngster was defeated 3-0 on Thursday by 16-year-old Justin Van Tergouw from Holland in the BDO Lakeside World Youth Championships.
But a bright future has been predicted for the 14-year-old Forfar Academy pupil.
Major winner Paul "The Asset" Nicholson said the teenager could be back on the Lakeside stage in 10 years time competing in the men's event.
Nathan started well in a fast-throwing match and won the first leg of the final but was simply blown away by the top ranked youth player in the world.
Van Tergouw's power scoring and finishing was relentless with three 180s during the match on his way to an average of 88.
JUSTIN VAN TERGOUW – LAKESIDE YOUTH CHAMPION 2017! pic.twitter.com/01tk1lOEKU

— NederlandseDartsBond (@NDBdarts) January 12, 2017
"It was no disgrace and I know Alan Soutar will be incredibly proud of him," said Nicholson.
"He was up against one of the best youth players we've ever produced.
"He's only 14 and he's got many more opportunities up there."
Nicholson said the experience of playing on the big stage would only make Nathan "more dangerous".
The Craichie youngster has been throwing darts for as long as he can remember but things started to get serious when he joined the Angus Darts Academy.
The Angus Darts Academy is run by Arbroath and Scotland darts player Alan 'Soots' Soutar who has appeared twice at the BDO Darts World Championship at Lakeside.
"Nathan has an absolutely sensational attitude and to have Alan in his corner is immeasurable," said Nicholson.
"This is a look at potentially what we could be watching up here in the men's ranks in 10 years time."
Nathan wore his Angus Darts Academy shirt during the final which was shown live to a worldwide TV audience of millions.
He came on stage with a Scotland flag and was cheered on by a sell-out crowd at Frimley Green which included his family and Soots.
The teenager charged his way through a packed field of talented youth players from around the world to qualify for the final through the play-offs.
Scotland youth international Nathan has been on sparkling form, winning eight tour titles out of a possible 13.
He represents Angus at county level.