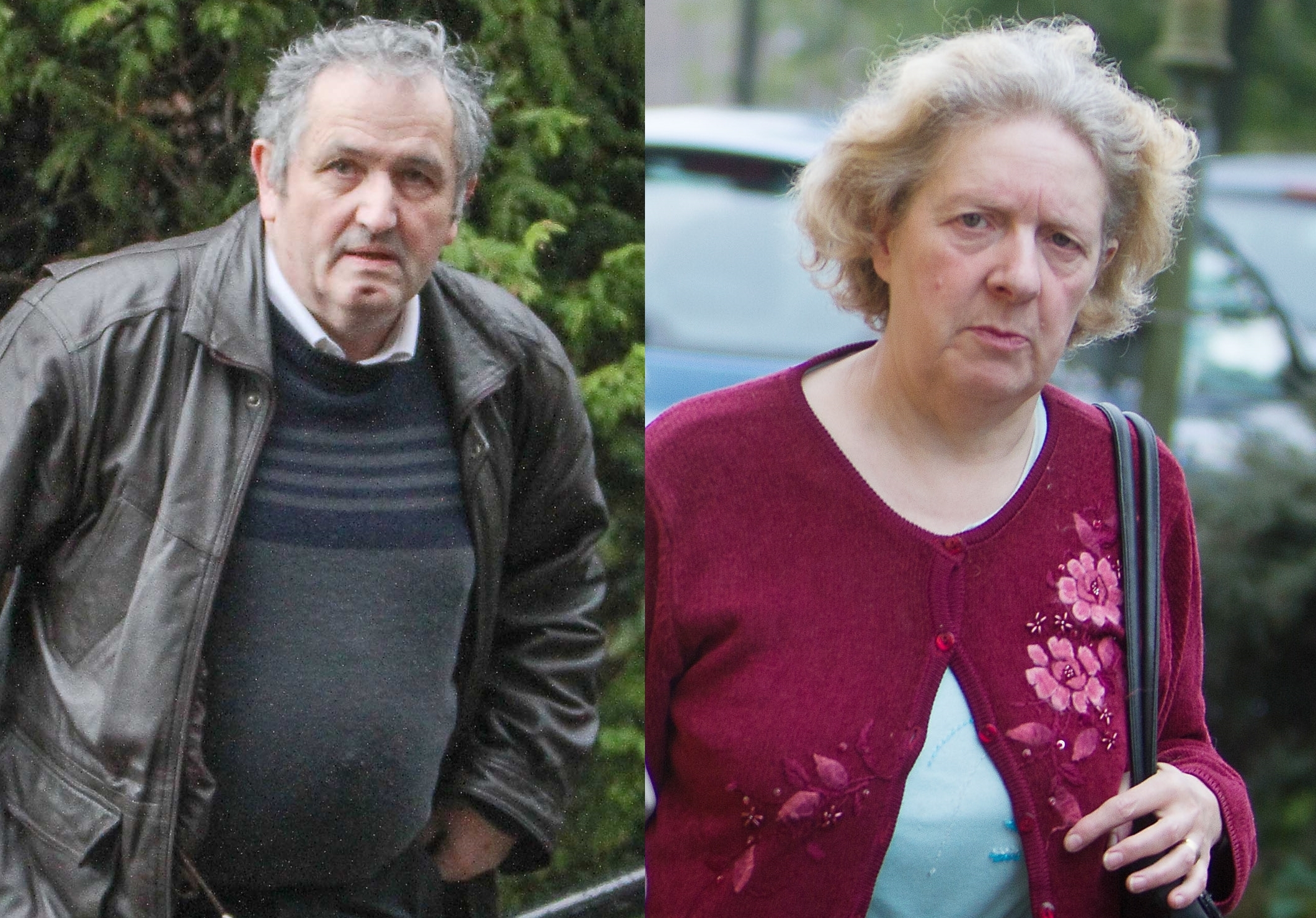 More than 50 decomposing sheep were found in fields, sheds and a trailer at a farm in Angus, an animal cruelty trial at Forfar Sheriff Court heard yesterday.
One sheep carcass was found in a domestic wheelie bin at Middle Coul Farm in Lintrathen.
Farmers George and Allison Pattullo are denying charges which allege cruelty to more than 250 animals between December 1 2012 and April 25 2013.
The dead animals were discovered by John Duncan and John Halliday from the Scottish Government's Rural Payments and Inspections Directorate who attended at the farm on April 16 2013 to make an unannounced cattle inspection for traceability purposes.
Mr Duncan said that in the course of their inspection they found several dead sheep and described the 150 sheep that were alive as in "poor condition".
He said: "We saw a lot of dead sheep in some sheds. There were live sheep in amongst the dead sheep. The sheds were right next door to the house, a few metres away.
"Mr Pattullo then took us to see sheep in a field. There were roughly 150 live sheep there but they were in fairly poor condition and a small trailer of dead sheep."
Under cross examination, Mr Pattullo's defence agent Brian Bell asked Mr Duncan if he would describe the winter of 2012/13 as exceptionally hard, noting that the Scottish Government introduced a support scheme for farmers as a result of the heavy snow.
Mr Duncan responded: "I've seen winters that were similar. I wouldn't say it was exceptional."
Giving evidence, Mr Halliday recalled that Mr Patullo was initially reluctant for the cattle traceability inspection to be carried out that day until he was told that the inspection had to be done unannounced.
He recalled: "There were sheep in various stages of decomposition. We found some under tarpaulin that were just bones and wool which must have been there for weeks, months probably."
He also noted that he saw no evidence of supplementary feeding being carried out at the farm, despite Mr Pattullo claiming he had done so and added that the land was bare with no grass available for the sheep.
He said: "The sheep were in very poor bodily condition which would appear to have been through a lack of feed, or could have been associated with health issues as well."
James Munro, animal health inspector for Angus, subsequently attended.
He told the court that he found more sheep carcasses and also discovered two dead bovine in a shed.
The following week he "took control" of the animals at the site, employing a veterinary surgeon to examine the flock and attend to their needs and also appointed a temporary shepherd.
He said: "The interim shepherd collected all the carcasses from the fields, which numbered approximately 50.
"There were also carcasses in the woods. There was a gap in the fencing."
He added: "A decomposing sheep was found in a domestic refuse bin. It took on the shape of the container it was in."
He also noted that there were dead sheep in amongst live sheep in sheds which could lead to disease spreading and that there was also evidence of fluke in the flock.
Leading the crown's evidence, depute fiscal Robbie Brown asked if he had seen any evidence of supplementary feeding for the sheep since the fields were bare.
Mr Munro replied: "There was hard feed that was put out to the sheep in a bag on the first day we were there.
"I've never seen sheep react to that before. It sounds ridiculous but they absolutely stampeded towards it. It wasn't a good sight. I'm not an expert but I'd say they were starving."
He said there were two bales of straw in storage which the sheep could not access.
The trial, heard in front of Sheriff Gregor Murray, continues.
Charges in full
The charges allege that George and Allison Pattullo caused unnecessary suffering to 19 bovine and approximately 250 ovine animals.
It is claimed that they failed to seek veterinary attention for animals that were suffering from liver fluke, parasitic gastroenteritis, lice root and which were lame from foot rot.
It is also alleged that the couple, who are aged in their 60s, failed to provide animals with adequate supplies of nutrition and water over winter, causing them to become emaciated or in very poor body condition, causing there to be a very high mortality rate at the farm.
It is also claimed that they failed to remove the carcases of dead cattle and sheep from the farm, which were left to 
decompose, placing live animals at risk of infection and that they failed to follow the good practice guidelines set out in the Animal Health and Welfare (Scotland) Act 2006.
Among the guidelines allegedly not followed was the lack of dry bedding and a well-drained area for the animals, a failure to provide adequate grazing and a failure to provide a suitable diet and fresh drinking water.
They are also charged with failing to provide flock records requested by an officer when asked to do so, contrary to the Sheep and Goats (Records, Identification and Movement) Scotland Order 2009.