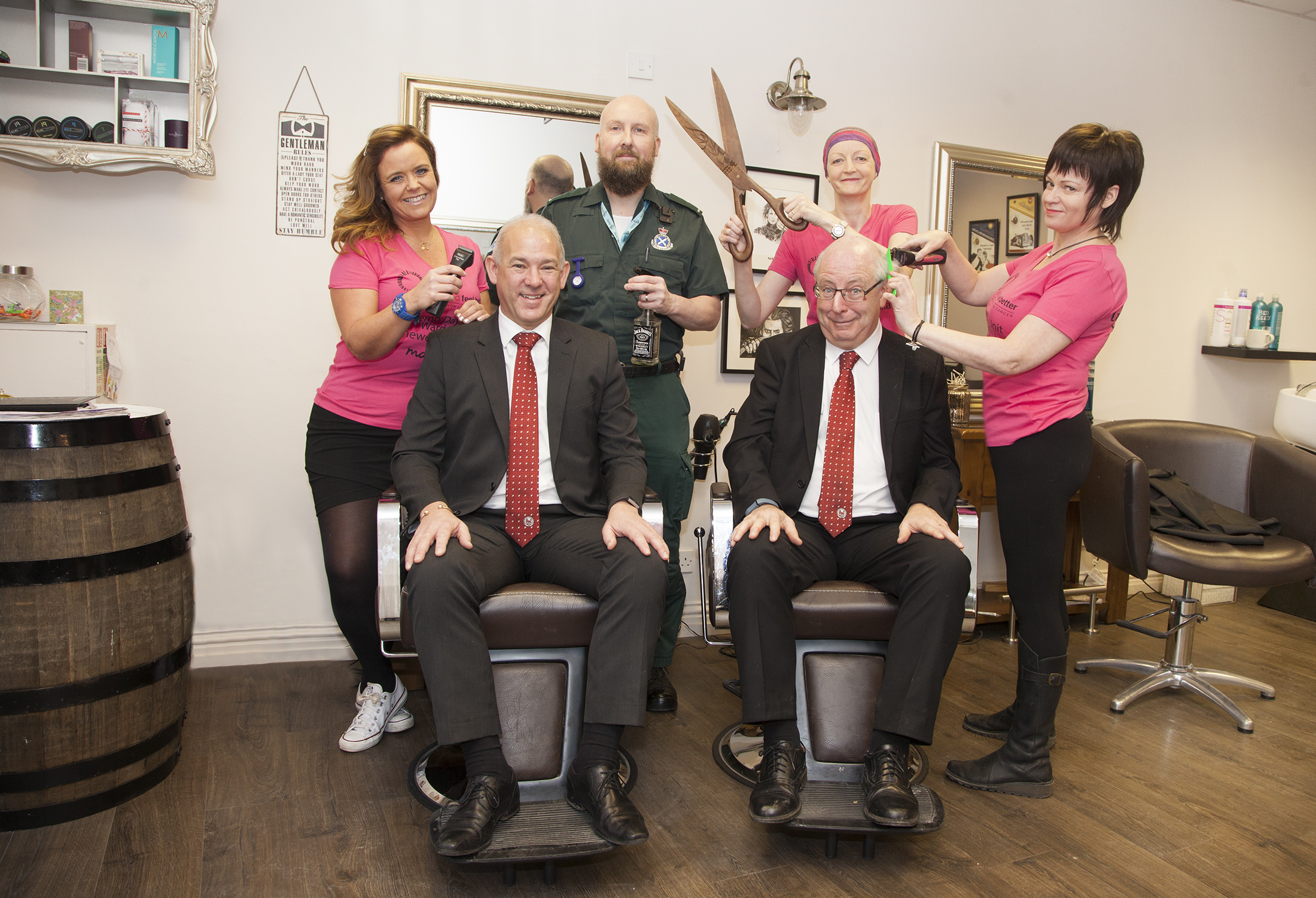 Big-hearted Angus residents donated more than £3,000 to brave the shears in a 24-hour endurance salon event in aid of a cancer charity.
Brechin hairdressers Marie Church and Linda Cook organised a noon-to-noon "haircutathlon", which ended on Sunday, in support of local woman Geraldine Williams.
Geraldine and her husband Ed have been paramedics for a total of 37 years and found themselves in need of help when the 43-year-old was diagnosed with breast cancer last year.
She is fighting through recovery, and Marie and Linda offered to raise money for the Maggie's Centre and Ward 32 comfort fund at Ninewells Hospital.
Marie said the community had shown massive support and the pair had cut solidly at GRÜM'd in High Street for an entire day — minus 45 minutes for a chat.
The event enjoyed a communal atmosphere with live music and food, as well as male and female revellers popping in from the pubs.
"It went really well, even better than we thought, and we're just finished popping the balloons," Marie said.
"There were more people than we expected and me and Linda both worked right through.
"We had quite a lot of folk come out from the pubs and a lot of people had booked appointments, so they knew there was time for them."
The event raised just over £3,000 on the door, with more money due to come in.
Marie said the pair were "delighted" to support a worthwhile cause and the concept was very popular.
"We never stopped, apart from about 45 minutes for a sit down," she added.
"We were wide awake and sitting chatting, and we could probably keep going, actually."
Geraldine attended a "look good, feel better" course at Maggie's Centre and thought it fitting for fundraising to be on that theme.
She said: "Ed and I are so grateful that we decided to fundraise for some of the amazing people involved along our journey."
The event was supported by City Press, and Brechin City FC.
The fundraising will continue in May when Geraldine, Marie and Geraldine's sons Corey, 15, and 11-year-old Gabriel, climb Ben Nevis, and Ed takes part in the Etape Caledonia 81-mile road bike race at Pitlochry.
Anyone wishing to donate can do so at http://www.justgiving.com/crowdfunding/geraldinewilliams-1.