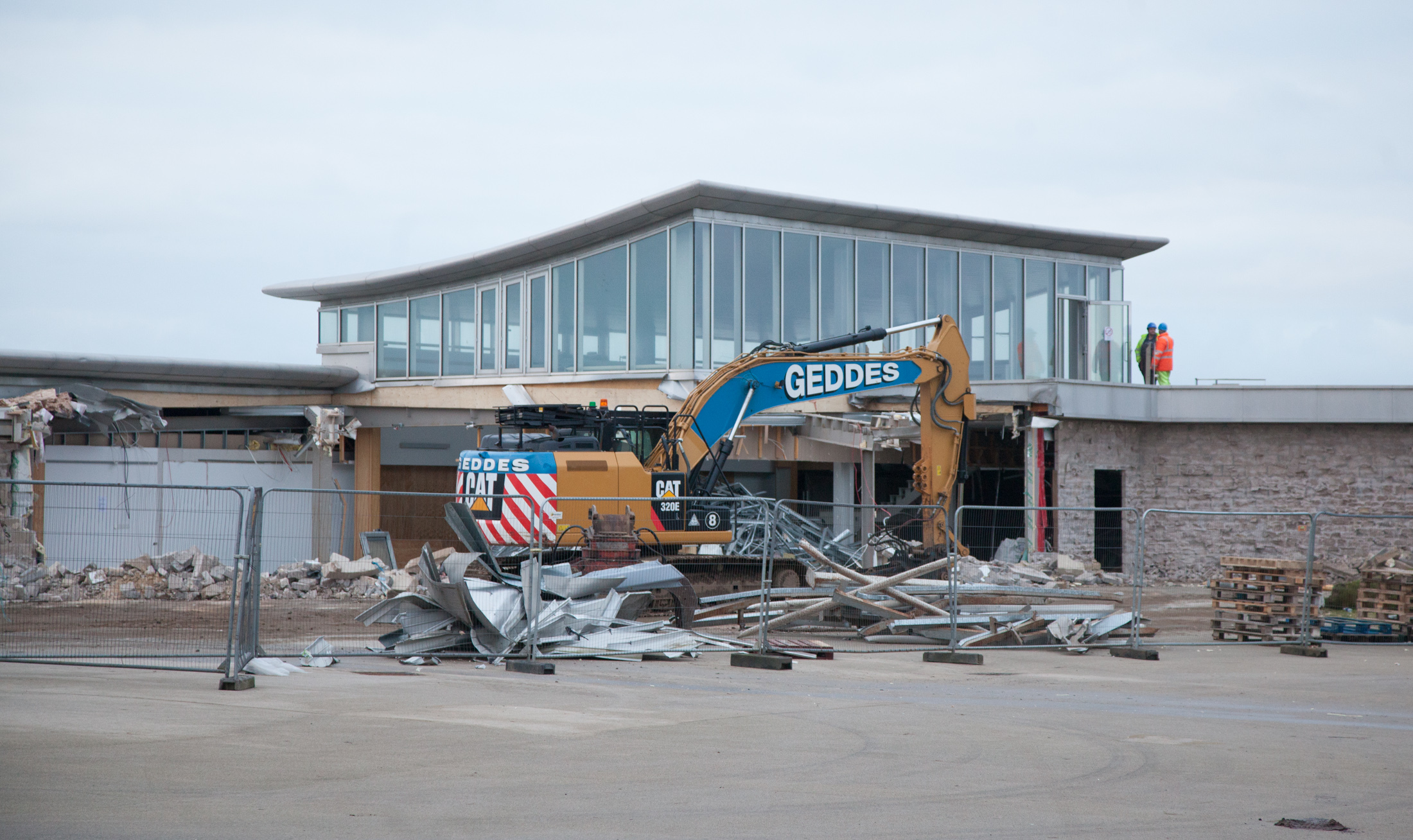 Work has begun on the controversial extension to the golf centre at Carnoustie links.
Ogilvie Construction Ltd has started the first stage of the demolition work by removing the exterior stone cladding, the outer walls and roof.
The original sand coloured stone cladding will be recycled onto the external walls of the new extension, to blend in with the striking links scenery.
The new building will provide a state-of-the-art golf practice and training facility along with a new bar and restaurant overlooking the golf course.
The project, which met local opposition, is due to be completed by December.
Graeme Duncan, general manager at Carnoustie Golf Links, said: "I am very pleased that so much progress has been made within a short time of starting construction.
"I am looking forward to watching the build  grow within the next few months.
"This new building is going to act as a centralised hub for all at Carnoustie Golf Links as well as a true celebration of the rich golfing history here at Carnoustie."
Cabins placed adjacent to the visitors' putting green will house the pro shop, golf services and caddie master until completion of the extension.
Meanwhile, recently elected Carnoustie councillor David Cheape has joined Carnoustie Golf Links Management Committee, taking up the council seat which has been vacant since Councillor Helen Oswald's death.
Mr Cheape said: "I am very pleased to be a director and trustee of Carnoustie Golf Links Management Limited and I look forward to working with the existing trustees and employees to help build upon the success and reputation of our world class links courses.
"I will work with the trustees in order to help deliver the best outcomes for visitors, our local golfers and the town's local groups and worthwhile causes in line with the charitable status of the trust.
"I hope to form close working relationships with each of the representatives of the town's golf clubs and not forgetting the views and opinions of other stake holders and the significant number of local golfers who have season tickets but are not members of any particular golf club."