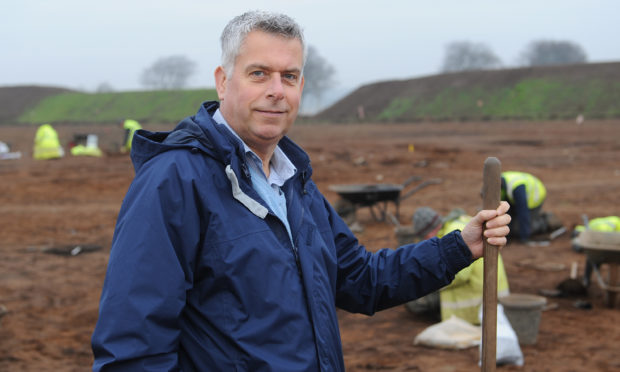 The remarkable haul of ancient artefacts uncovered during an archaeological dig in Carnoustie has led to a councillor calling for the town to get its own museum.
A gold-decorated bronze spearhead wrapped in fur which was found at Balmachie has been heralded as a discovery of international significance.
The site, which will soon be turned into two full-size football pitches, also contained a bronze sword and a leather and wooden sword sheath as well.
The 18 weeks of work by a team of archaeologists found evidence of both Bronze Age and Neolithic settlements going back as far as 4000 BC.
Although discovered on land which is owned by Angus Council, the treasures are now property of the Crown.
The treasure trove process means that Angus will have to apply for the items to be returned to the area.
Carnoustie councillor Brian Boyd said that ideally he'd like to see them on permanent display in a new museum in the town.
Speaking at the dig site, he said: "We must ensure that we get all these artefacts back into Angus.
"Naturally I'll be pushing for them to be displayed as close to the site as possible and therefore somewhere in Carnoustie.
"Carnoustie is the only burgh in Angus that doesn't have a museum. We could do something really special with this.
"We could hopefully bring in the heritage of golf and the history of this site which goes back to 4000 BC in one museum.
"We could display not only the artefacts found here but models and maps of the site.
"It would be an ideal opportunity to bring the town's history altogether in one place."
The GUARD Archaeology team employed by Angus Council discovered around 1,000 archaeological features at the site.
Among them the remains of up to 12 sub-circular houses that probably date to the Bronze Age (2,200-800 BC) along with the remains of two rectilinear halls that likely date to the Neolithic period (4000-2,200 BC).
Some of the other archaeology on site consists of clusters of large pits containing discarded, broken pots and lithic artefacts.
It is unclear yet if the archaeological remains comprise a settlement that lasted from the Neolithic until the Late Bronze Age or if it comprises several settlements built upon the same site but separated in time by many centuries.