With colours flying, drums beating and bayonets fixed, the heroes of 45 Commando proudly paraded through the streets of Arbroath.
The Freedom Parade involved around 350 personnel together with a marching band and marked 45 years of shared history between 45 Commando and Angus.
Marines exercised their Freedom of Angus during the march from Victoria Park to the High Street where they stopped at a saluting dais outside the former Sheriff Court buildings.
There, they were inspected by Provost Alex King and Georgiana Osborne, Lord Lieutenant of Angus, before marching back from the High Street to Victoria Park.
Marines head towards the High Street. pic.twitter.com/2y8oNGUCln

— Graeme Strachan (@C_GStrachan) March 29, 2017
Lt Col Tony Turner, the Commanding Officer of 45 Commando Group, said: "Before we conducted the march today, I reminded everybody on parade, that it's an absolute privilege to march through any British town with weapons and bayonets fixed.
"It's recognition that we have the freedom of a particular town or city, so to do so up here in Arbroath, which has hosted us as a unit for the past 45 years, was very special today.
"As commanding officer, I get to meet a lot of the local community and talk to them quite extensively, and what has been absolutely obvious is that everybody remembers people or has close personal connections to the unit, going back to the 1970s; people that have served in the Royal Marines, long before I joined.
"That depth of relationship, that shared history, is what I think makes our organisation and our connection to Arbroath so unique.
"Angus has very strong connections to the military at large and it is a very special place for 45 Commando."
The marines arrive in the high street to applause from the gathered crowd. pic.twitter.com/cdpquhHIM3

— Graeme Strachan (@C_GStrachan) March 29, 2017
Lt Col Turner said it was "extremely reassuring" that rumours that the marines would be leaving their base at RM Condor next year have now been "put to bed".
"It was part of life at 45 Commando that we might be moving next year," he said.
"That was a rumour that's been lasting for almost as long as we've been up here.
"But it's extremely reassuring – particularly for the people who are settled in the area – for the secretary of state for defence, Sir Michael Fallon, to say that we are staying here for the foreseeable future.
"Another 45 years?  You never know."
The council agreed to bestow the Freedom of Angus on 45 Commando in 2001 but the unit was not formally granted the honour until 2003 due to its operational and training requirements, including deployments in Afghanistan and Iraq.
The unit exercised its right again in 2009.
Following the parade, there was a civic reception at RM Condor, which was hosted by Provost Alex King for the unit and invited guests.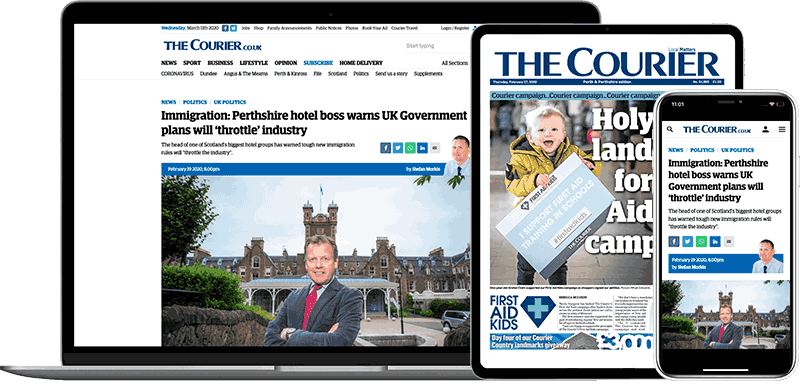 Help support quality local journalism … become a digital subscriber to The Courier
For as little as £5.99 a month you can access all of our content, including Premium articles.
Subscribe