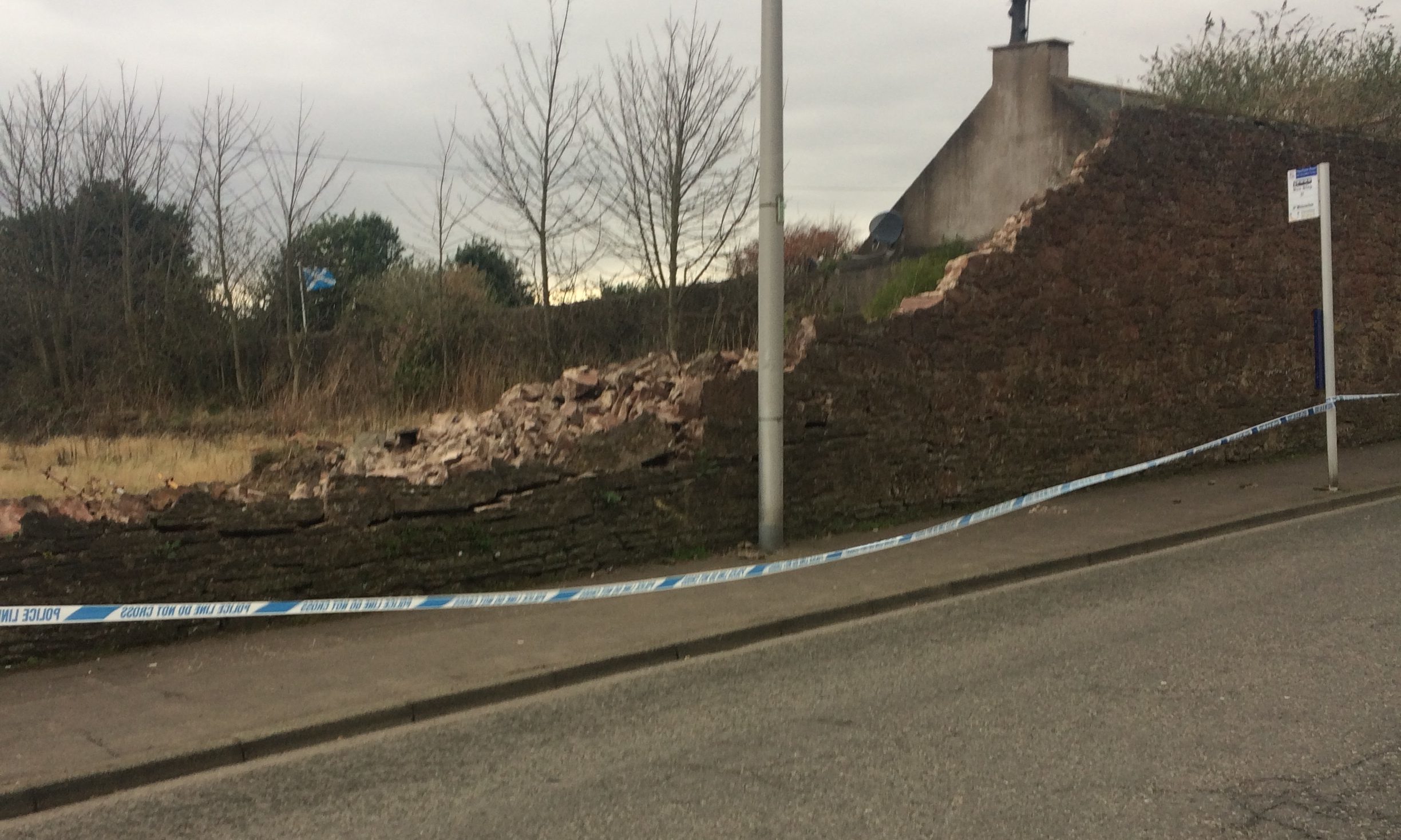 The site of a dramatic Angus wall collapse has been cordoned off and made safe following a close call on Monday evening.
Bus driver and ex-Forces veteran David Mooney said he and his two dogs escaped being squashed by 15 feet of falling masonry when the wall collapsed seconds after he walked past.
The 47-year-old was taking pets Oscar and Bruiser along Arbroath's Hayshead Road and heard a rumble "like thunder" as he turned on to Springfield Terrace.
Luckily the wall fell into the privately-owned derelict land that it surrounds rather than collapsing on to the pavement which was right next to a bus stop.
Kevin Barthorpe from the Association of Residents of Cliffburn and Hayshead said: "Anyone that has children knows how dangerous it could have been had it happened during the school day.
"I'm very happy that nobody has been hurt."
Work under way this morning to clear the debris following the wall collapse yesterday in Arbroath. pic.twitter.com/FCtwoJBN8U

— Graeme Strachan (@C_GStrachan) April 4, 2017
The brick wall surrounds a 1.2 acre site which is currently up for sale.
The site owner arranged for the damaged wall to be cleared up on Tuesday with a JCB digger working hard during the morning to clear the debris.
An Angus Council spokesman earlier said: "Our staff liaised with local police on Monday and, thereafter, installed barriers beside the collapsed wall.
"It is privately owned and fell into privately owned land.
"The owner is aware and intends to clear the damaged wall and make it safe."
Locals were still gathering at the site to take a look at the gaping hole on Tuesday morning as word continued to spread about what had happened.
Some of them said the wall was simply an accident waiting to happen and weren't exactly surprised by what happened.
One said: "When I heard the rumble I thought it was just a lorry going down the road.
"I have to say though that it was inevitable that it would collapse given how much it leaned inwards — it's a corny line, but it really was an accident waiting to happen.
"I'm just glad nobody was hurt and the school was closed for the holidays because it's a road that pupils walk down to get to the shops."
The incident happened just after 5pm on Monday.
Police initially made inquiries before passing the matter to Angus Council.