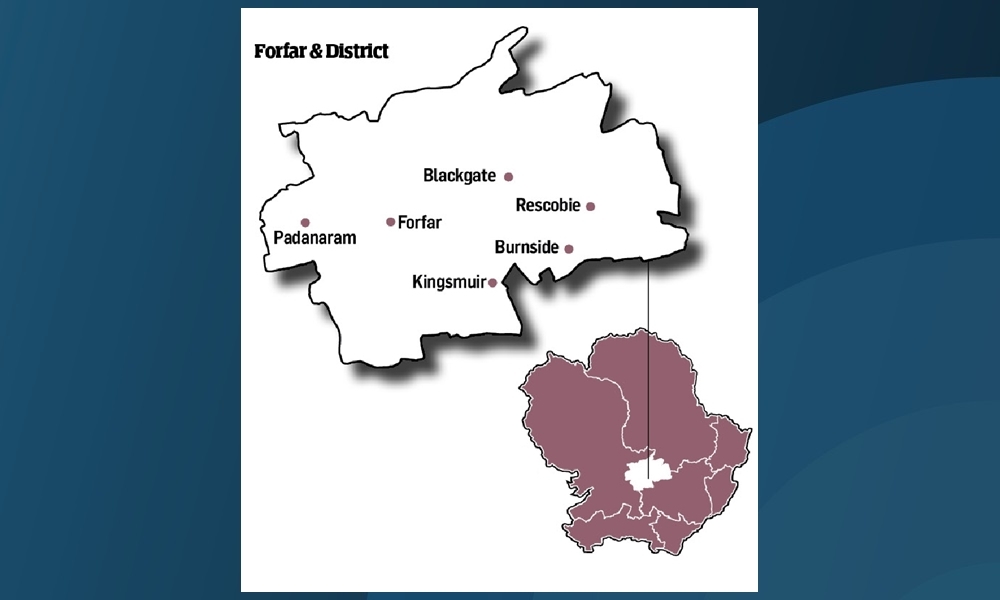 All four Forfar and District councillors are standing for re-election.
The ward has been served for the last five years by Colin Brown (independent), Lynne Devine (SNP), Ian McLaren (independent) and Glennis Middleton (SNP).
Mr Brown was reprimanded by the Standards Commission last year for failing to declare the financial interests of a relative during discussions relating to the controversial planned sale of council offices at The Cross to pub giant JD Wetherspoon. He was suspended from attending council meetings for two months.
The other candidates are Glen Barclay (Liberal Democrat), Braden Davy (Conservative), Ed McAdam (Labour) and Ian Whyte (independent).
The town's recycling centre is set to close with a replacement facility, to serve Forfar and Kirriemuir, likely to be situated in Padanaram.
Forfar Community Campus opened earlier this year at a cost of £38.9m which has led to the closure of Lochside Leisure Centre, Forfar Swimming Pool and the old Forfar Academy building. The future of the former pool and leisure centre is yet to be decided, whilst the old Academy has already been targeted  by vandals ahead of its forthcoming demolition.
The sale of council buildings – including 5-7 The Cross which Angus Council attempted to sell in secret to Wetherspoons – remains on the agenda as council cost cutting continues.
The town has also harnessed community spirit through organisations like Forfar in Bloom which opened a new community garden last year.
The annual cycling festival held at Reid Park, which started in 2014, has also proved very popular.
---
Candidate profiles
The Courier invited each candidate to submit a short introduction to themselves and, if they wished, a video explaining why they deserve your vote.
Glen Barclay (Lib Dem)
Local councillors make decisions that impact everyone, but often it is young people who are affected most.
It is vital that they have someone to represent them. I urge you, the electorate, to think young and vote Lib Dem.
I joined the Liberal Democrats following the coalition government, having seen this was the party that made a difference. I want to go on making a difference.
If elected, I want to increase community involvement in education. I particularly appreciate the role of local libraries in secondary education, as support for university candidates, like myself.
I also want to make the local council a more attractive prospect to people of my age.
Though I may not have years of experience behind me, I do have ambition, enthusiasm and energy. A vote for a young Lib Dem is a vote for a fresh outlook.
Colin Brown (independent)
As your independent councillor, I have been your voice for the last 10 years.
I sincerely hope I have served you well the people of Forfar well and to the best of my ability.
I have been available most days to you members of the public at the office at 5/7 The Cross, where many of you have come to see me with your complaints, observations, information and compliments or merely needing me to listen.
Some of you had a cup of coffee on a cold day.
I am asking each one of you to vote for me your independent candidate.
I do not have to follow any party lines or be told how to vote when deciding what is best for Forfar.
Not looking for guidance from the party leader I will support whatever is important to our town.
Remember we are supporting Forfar within Angus Council and will have no one telling us how to vote.
Braden Davy (Conservative)
Living in Forfar, I'm committed to being a strong voice for our area and standing up on the issues that matter to you.
I currently work part-time as an office manager and I am in the Royal Navy Reserves training to be a sub-lieutenant. I'm also a keen student of languages, and I study Spanish and Chinese.
The SNP have taken their eye off the ball as they push a second independence referendum.
Our local services are being cut and council tax is sky rocketing. They're even proposing closing Forfar's recycling centre.
Voting for me means you'll get a candidate who will focus on the day job.
Securing the future of our recycling and refuse facilities, opposing SNP council tax increases and budget cuts.
Voting for me sends a strong message that we want our politicians to do the job we elect them for and we don't want a second divisive independence referendum.
Lynne Devine (SNP)
I've been a councillor for Forfar and District for the last five years which have been enjoyable, very interesting and quite challenging.
In that time I've been vice-convener of children and learning committee where my teaching experience stood me in good stead and I was delighted to be involved in the new schools programme.
In the last year, I've also been spokesperson for economic development where my past business experience helped me to understand the needs of businesses and also the need for apprenticeships and meaningful work experience for our young people.
With decreasing budgets, it's essential that as councillors we work closely with groups in the community to take decisions on how they think money should be spent.
I really want to see more social enterprises starting up to increase job opportunities for people in their own communities.
Ed McAdam (Labour)
I have owned a house in Angus for the past eight years, moving in four years ago after taking early retirement from BT, having worked there for 42 years.
My wife and I moved from Northern Ireland to be closer to our grandchildren.
During my career with BT, I was a member of the CWU and held various offices in the union.
I then joined Prospect and was chairperson of the Northern Ireland Branch for several years. Currently I am a member of the CWU.
If I am elected in Forfar I will oppose cuts to home helps, community centres, schools, special needs, street cleaning and other services that the majority of us rely upon.
Education and mental health will be my priorities. I want to ensure that classrooms of 18 are introduced as soon as practical.
Vote for me to protect services.
Ian McLaren (independent)
It has been a privilege to represent the people of Forfar and District for the last five years as an independent councillor.
I have worked and lived in the Forfar area all my life. I have owned and run a successful hairdressing business in the town for over forty years and in this time I believe I have gained an understanding of the many concerns and challenges facing local people living in and around the area.
I would continue working towards supporting and encouraging road repairs, protecting existing sheltered housing services and maintaining the provision of local bus services.
I would also offer my support to local businesses and sport facilities. Another of my main concerns is recycling and litter prevention.
Having a truly genuine interest in our local community, with your support, I will endeavour to continue improving and maintaining this enjoyable place to live and work.
Glennis Middleton (SNP)
I have been an Angus councillor, representing the people of Forfar, for 22 years. It has been a hugely rewarding experience.
I have a particular interest in health and social care and in the well-being of my community.
In addition to my council duties, I also sit on the board of NHS Tayside and I am vice-chair of the Scottish Local Government Forum against Poverty. I am also chair of Forfar Resource Store.
I believe in fairness and equality for all. Democracy is an integral part of any civilized society and I believe is something to be treasured.
Honesty and integrity are essential components of that. It is important to argue for what you believe in, but equally important to do so in a respectful way.
Local government elections are about local democracy and the services we all use on a regular basis. I hope people use their vote.
Ian Whyte (independent)
I spend many hours every week doing things which benefit the Forfar community and the more I get involved, the more I want to do.
My business experience before returning to Forfar a decade ago is very wide and I believe my skills, conviction and work ethic would bring a zest to council to help make changes for the better.
I have no time for petty party politics, preferring to (metaphorically) bang their heids together if either "side" are being obstinate just for the sake of it.
I stand, and stand up for, best value for money decisions being made by those most affected, joined-up thinking, simplifying bureaucracy, listening to your problems and actively finding solutions, leaving no stone unturned.
When all is said and done, I've a lot more done than said.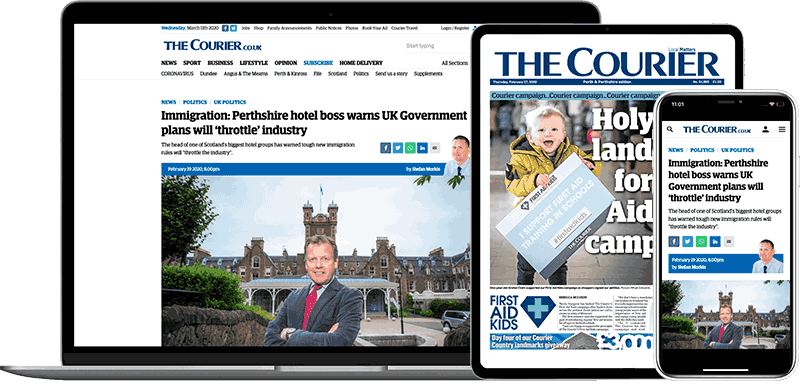 Help support quality local journalism … become a digital subscriber to The Courier
For as little as £5.99 a month you can access all of our content, including Premium articles.
Subscribe