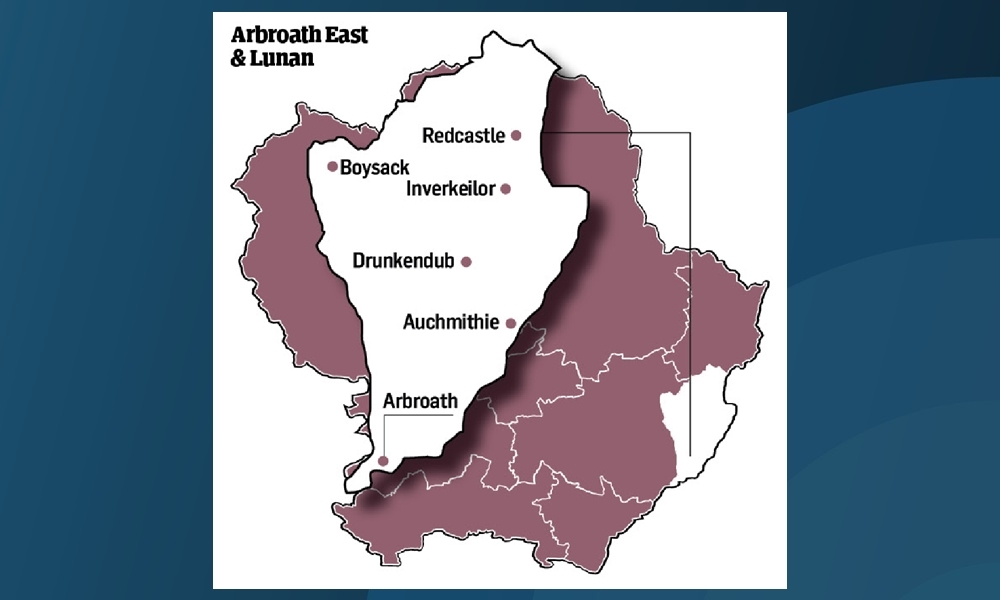 The Arbroath East ward lost part of its territory and a councillor in a shake-up to the ward boundaries.
With Friockheim and Colliston now going with the Arbroath West area, the number of councillors in Arbroath East and Lunan is dropping from four to three.
With eight candidates standing in the east of the town, it makes this the most competitive council contest.
Long serving Independent councillor Bob Spink stood down from the council in September due to health reasons.
The victor in the subsequent by-election, the SNP's Brenda Durno, is standing again, as is fellow SNP councillor Sheena Welsh.
Donald Morrison (SNP) is also standing for re-election but in the Arbroath West, Letham and Friockheim ward. Conservative councillor Martyn Geddes is not seeking re-election.
The other candidates are John Ruddy (Labour), Kevin Smith (Independent), Mark Smith (Liberal Democrats), Lois Speed (Independent), Derek Wann (Conservatives) and Ian Watson (Independent).
Ladyloan and Hayshead primary schools are set to be replaced under Angus Council's Arbroath schools project.
Arbroath Harbour continues to go from strength to strength with a long waiting list for pontoon berths, which are at maximum capacity.
The Signal Tower Museum continues to be one of  the town's most popular visitor facilities and recently announced the re-opening of the Bell Rock lens room after several years in the shade.
.
---
Candidate profiles
The Courier invited each candidate to submit a short introduction to themselves and, if they wished, a video explaining why they deserve your vote.
Brenda Durno (SNP)
I won the Arbroath East by-election last November. I am a very dependable and self-motivated individual who has been a proprietor of several successful local businesses.
As a director of the local Furniture Recycle Project I care strongly about the environment and works with other local organisations and community projects.
I have enjoyed working recently with the Dementia Centre and want to encourage new socially innovative ways of working with all generations in the community including sport related activities, music and craft projects.
I am deeply concerned about waiting lists for housing for a number of my constituents and I have discussed further housing options with the council housing team.
I am working with the Empty Homes Initiative, which would see empty properties renovated and rented out thus reducing the waiting lists.
Helping residents in her constituency is my number one passion. I pledge to continue to work for the wellbeing of my constituents.
John Ruddy (Labour)
Angus Council must not be a conveyor belt for Tory and SNP cuts.
This election isn't about independence either – it should be about our local services and what is best for Angus.
The SNP have just passed on the cuts coming from the Scottish Government instead of fighting them on your behalf.
I will prioritise tackling the big challenges that affect our communities – improving and expanding our housing stock so that everyone has a decent home to live in; ending the educational attainment gap between the richest pupils and the rest; and work to end the cuts to our public services such as the changes to the community care alarms.
I will stand up for you and will think of new ways to deliver on your behalf.
We need a council that's about doing things with people, not to people.
So please give me your first preference on May 4th.
Kevin Smith (independent)
I'm a former Royal Marine Commando deep sea diver (used to pressure!), High Street retailer, businessman, event organiser and council clerical officer.
I have gained a vast amount of experience and knowledge, which will be invaluable as a councillor.
My latest job is at Journeycall, Kirkton, where I'm employed as a call centre operator, using my communication and problem solving skills.
I have an HNC in accounting and a degree in management and have travelled the world gaining valuable experience of life.
Last year I relaunched the community council and became chairperson in the hope of giving power back to the people.
We were then able to release funds for the fireworks, make donations to the Athletics Arena, Heroes Parade and Arbroath Academy's Rwanda appeal.
I'm also the local neighbourhood watch co-ordinator.
I believe important local issues should be dealt with at local 'street' level, and not by big political parties controlled and dictated to from Holyrood.
Mark Smith (Lib Dem)
I have lived in Angus since childhood and currently work as a delivery driver and freelance cartoonist.
I am a committed campaigner on mental health and animal welfare issues and I am also a member of the Scottish Wildlife Trust and the League Against Cruel Sports.
I believe the job of a local council is to make sensible decisions on behalf of the community and to take care of those less able to manage by themselves.
I also believe that health, welfare and education should be top priorities for any council.
Lois Speed (independent)
I'm a passionate believer in social inclusion, equality and fairness.
I will actively listen and reach out to those who are isolated and whose voices are not being heard.
I have an HNC in health and social care and I'm a graduate of Partners in Policy Making, a leadership course that has equipped me with the skills and knowledge to advocate and campaign for better treatment and social justice.
However, I believe that my own life experiences have provided me with a unique insight, depth of understanding and empathy that sets me apart.
I will work hard to bring people and local businesses together to build strong, caring and supportive communities.
The Community Empowerment (Scotland) Act 2015 has been designed to help strengthen your voice and ensure that you can participate in decision making.
I will help you exercise your rights within this act.
Derek Wann (Conservative)
I have been involved in politics locally for over six years, campaigning to save our local court and against legal highs in the shops in Arbroath.
I led the team for Better Together in Angus and stood as a candidate in the Westminster General Election in 2015 and the by-election for Arbroath East and Lunan in November.
It is about time that the people of Arbroath had a councillor who will stand up for them and be accessible to everyone.
We have seen the council recently close vital local services and charge for green bin collections, whilst showing an underspend of £15 million.
Now we have the SNP ignoring the day job and harping on about another independence referendum. It's time for real change in Angus.
A vote for me is a vote to ensure that Arbroath and its residents are heard loud and clear.
Ian Watson (independent)
I have chosen this ward because this is where I was born and is the ward my wife Lindsey and I have brought up our family. We are still here.
Most people reading this will know me from the British Legion where Lindsey and I carry out a variety of voluntary duties. It's a huge privilege to be part of the Legion team.
My past volunteer work consists of Seafront Spectacular Committee, Arbroath & Area Partnership Committee and chairman of the Arbroath Community Council.
Being well aware of local Government work, I would fit in well as a councillor.
My main priority would be frontline services, mainly supporting UNISON with their fight to retain over 130 frontline staff and mental health issues.
Sheena Welsh (SNP)
As a sitting ward councillor, I have served as the convener of the children and learning committee and have worked closely with members of all parties to achieve the best possible outcomes.
I secured two brand new schools for Arbroath at Warddykes and Timmergreens and I have also ensured that new schools will soon be built for Ladyloan, Muirfield and Hayshead with the possibility of a new St Thomas Primary, subject to the outcome of public consultation.
With a long standing interest in housing, I have helped to achieve the demolition of the eyesore blocks at Guthriehill and look forward to welcoming the modern, affordable family homes which are to be built on the site.
I have also taken an active part in the life of Arbroath, including involvement with Friends of Keptie Pond, Fairtrade and Christmas Lights.
I now seek your support to allow me to continue this work.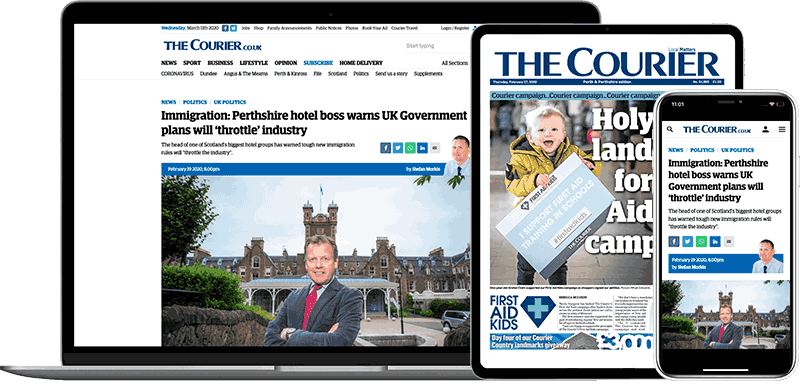 Help support quality local journalism … become a digital subscriber to The Courier
For as little as £5.99 a month you can access all of our content, including Premium articles.
Subscribe