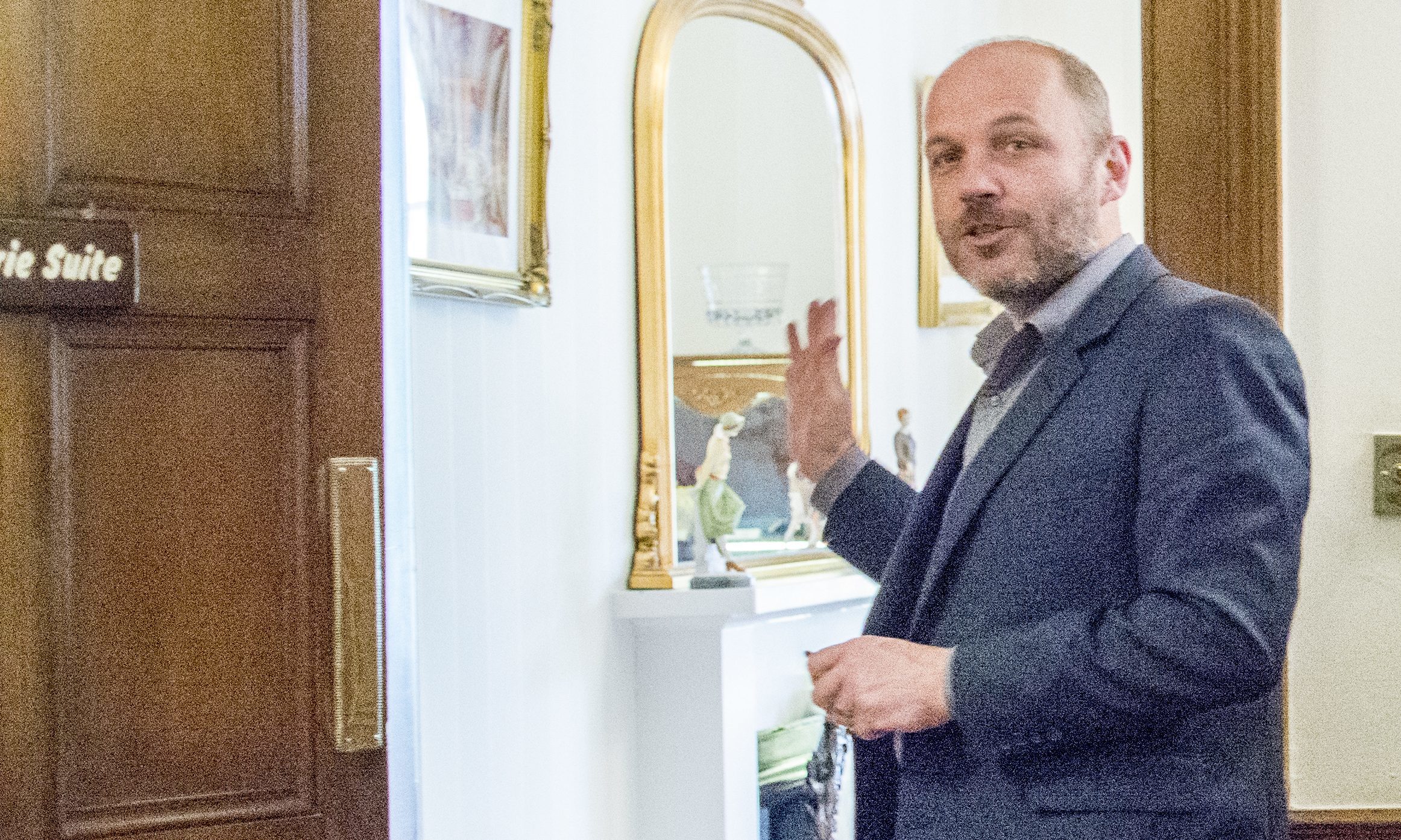 Two MSPs have called for the Tayside castle at the centre of a fraud scandal to do everything it can to reassure couples who have booked weddings that their dream day will still go ahead.
Guthrie Castle's former wedding planner Craig Williamson is alleged to have stolen thousands of pounds of wedding deposits before wiping out records on their computer system.
It is understood that a wedding at the Angus venue on Saturday was double booked with a conference and people with bookings are urged to contact the venue.
Brides and grooms have been left in limbo as they wait to hear whether multiple bookings have been made for their date.
Even couples whose weddings have been meticulously planned for next month are waiting to hear if they will be going ahead.
Guthrie Castle has still to make a comment on the claims.
North East MSP Liam Kerr has called for the castle staff to do more to "communicate clearly" and clarify dates.
He said: "There will clearly be a lot of very worried people out there who have booked weddings and events at Guthrie Castle.
"Many will have paid substantial deposits for their big day only to be left wondering now what has happened to the money.
"We must allow the police investigation to run its course, but I think in the meantime management at the venue need to communicate clearly with those affected and clarify dates as soon as possible."
Angus South MSP Graeme Day said more information was the least the couples affected deserved.
He said: "I can understand entirely how distressing this situation is for those caught up in it.
"Whilst I appreciate Guthrie Castle may still be trying to determine the extent of the problem I would encourage them to provide as much information as possible as quickly as they can to those affected.
"It strikes me that is the least couples whose bookings have been taken deserve."
It has been claimed that Mr Williamson asked people to deposit money into a personal account rather than the Castle's bank account.
Police are investigating the claims. The whereabouts of Mr Williamson is unknown.
An angry parent of a Tayside man who is due to be married at the castle next year said: "My son has paid a £6,000 deposit and we have a contract.
"We've traced it back to a bank account called Guthrie Castle Ltd so we think that will be a legit account.
"But even though the wedding's due to be held next year the castle still hasn't confirmed whether he's getting his date or not.
"We were contacted by them at the end of last week. They must know by now what the situation is. They've got to stick to the contract we have with them."
He added that his son's finance is in tears every night with the stress of the situation.
"They are gutted. It's a nightmare. They've even got people coming from abroad for this wedding.
"The castle contacted us last week and said their computers had been seized. Six days on and they've still not told us if we have the date of not. It's getting ridiculous.
"I find it hard to understand how the castle can have made such a massive error and let one person control such a massive amount of money. It's incredible."
A Kirriemuir woman said she paid a substantial deposit toward her daughter's dream wedding in April 2015.
The wedding was then called off and she has struggled for almost two years to find out whether she is entitled to any of the deposit back.
"The wedding coordinator Craig just kept putting it off and putting it off," she said.
"I understood that it was a deposit but I thought I might get some of it back.
"He said that we might be able to get the deposit for the food and drink back but only if another wedding booked for the date this summer.
"It's only now I've realised that I never had a receipt for the money I paid and now I'm wondering if it even went into the castle's account."