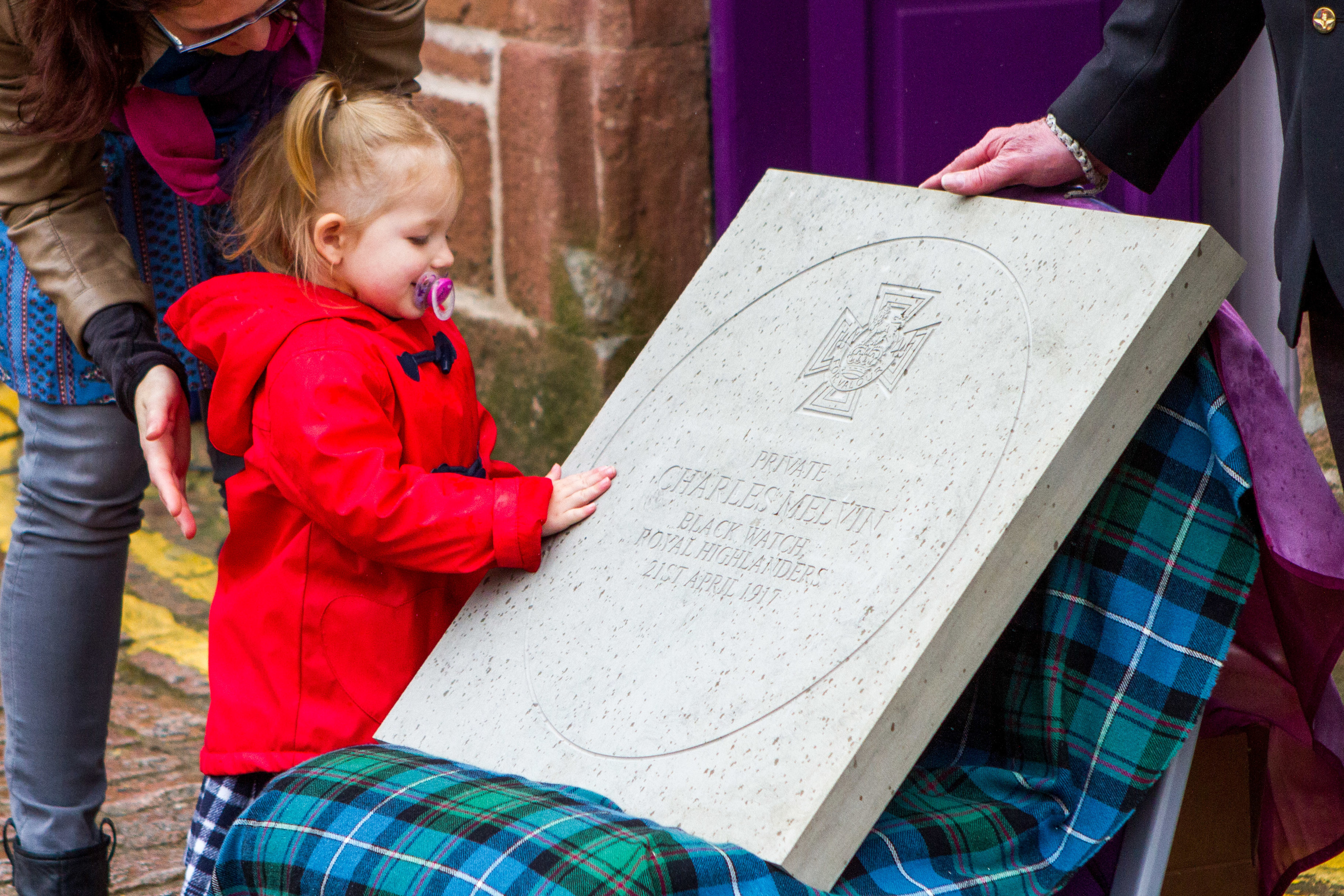 An Angus hero of the First World War was commemorated on Friday, 100 years to the day of an act of "great valour".
Private Charles Melvin was awarded the Victoria Cross following an astounding feat in action at the Battle of Istabulat, in modern-day Iraq, in 1917.
The 31-year-old Black Watch soldier, who was born near Montrose and lived in Kirrie, took an Ottoman trench single-handedly with a bayonet in his hand while under fire, taking nine prisoners and killing four combatants.
A commemorative stone was unveiled in the town's Square, attended by invited guests and senior figures from the regimental association of the famous Black Watch.
Its unveiling was attended by Pte Melvin's great-nephew David Melvin and great-great-great-niece Kirby Melvin, who pulled back the tartan covering the stone with a little help.
Provost Alex King welcomed the crowd in fair weather and said: "On behalf of Angus and Kirriemuir, I have the particular pleasure of welcoming members of the Melvin family here for this unveiling.
"It's difficult to comprehend, 100 years on, the horror in the trenches and the battlefields of World War One."
Colonel Alex Murdoch of The Black Watch Association said the young private's valour "greatly inspired those around him."
And the Lord Lieutenant of Angus, Georgiana Osborne, paid tribute to the "hugely courageous" private's actions.
She said: "I'm sure that you are all, like me, amazed to hear of Charles Melvin and the incredible bravery he showed 100 years ago today."
Mrs Osborne was joined by local councillors and MP Mike Weir, and music was supplied by Webster's High School brass ensemble and Pipe Major Alistair Duthie.
The ceremony was part of the remembrance of the sacrifice of the First World War and a national campaign by the Department for Communities and Local Government to honour all VC recipients — with Kirriemuir boasting no fewer than three of the 158 Scots who have been recognised with the award.
Pte Melvin went on to serve in Palestine and was discharged in 1919.
He died in July 1941, only two years after signing up for the Home Guard at the outbreak of the Second World War.
He is buried at Kirriemuir.