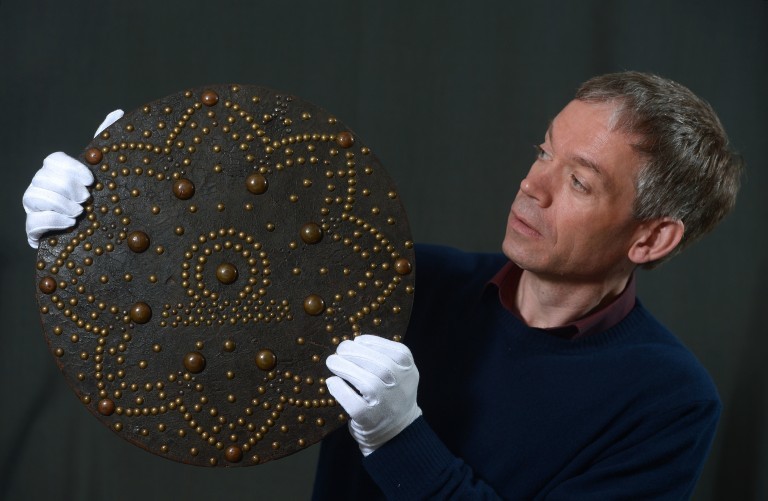 An 18th century shield from Arbroath Abbey and a painting of an Angus landmark have travelled to China to feature in a new exhibition about Scotland.
Romantic Scotland looks at how the romantic view of Scotland's past popularised by writers like Sir Walter Scott and painters like Alexander Naysmyth compares with archival evidence of Scotland's history.
More than 100 objects, paintings, photographs and other treasures have been flown more than 5,000 miles for the display at one of China's largest cultural institutions.
A highlight of the exhibition, which opens tomorrow, is the 18th Century targe of the type traditionally used by Highland clansmen from Arbroath Abbey.
A painting of the Bell Rock Lighthouse off the coast of Arbroath by Joseph Mallord William Turner also features in the display which has been curated by Historic Environment Scotland (HES) and the National Galleries of Scotland.
Rebecca Bailey from HES said: "It showcases spectacular romantic interpretations of Scotland's changing landscape, from storm-lashed coastlines and majestic castles to jagged mountain peaks and haunting rural landscapes.
"These images of Scotland are still influential around the world today, and we're interested to hear from visitors about their views of modern Scotland."
A combination of paintings, historic photographs and artefacts, they aim to tell the story of a time when artists let their imaginations and emotions run free in an expressive new movement that came to be known as romanticism.
It is hoped that the artworks and artefacts going on display at Nanjing Museum will show the richness of Scottish culture and raise awareness of Scotland's illustrious history.
Patricia Allerston from the National Galleries of Scotland added: "Chinese visitors are one of the National Galleries of Scotland's fastest growing audiences.
"We are delighted to have this opportunity to present 31 of our top historic Scottish paintings in Nanjing, alongside the collections of Historic Environment Scotland."
The exhibition will also provide a platform for landmark research, funded by the Arts and Humanities Research Council, into what motivates visitors to engage with Scottish culture and heritage.
Academic partners from the UK and China will explore how visitors move through the museum and interact with the exhibits, as well as monitoring how visitors engage with the artworks and artefacts on display.
Visitors will be encouraged to get interactive both in the exhibition and on social media, sharing photographs and video, posting thoughts on a huge graffiti wall, and sending postcards back to Scotland.
The research will facilitate knowledge exchange between academic and cultural institutions in Scotland and China, with the aim of increasing understanding of audiences in both countries.
Heritage tourism contributes £2.3 billion to the Scottish economy every year, with China emerging as a particularly strong market in recent years.