The RNLI has shared dramatic footage of rescue exercises involving members of an Angus volunteer lifeboat crew.
Arbroath crewmen recently undertook a training exercise with the Inverness-based UK Coastguard helicopter to hone the skills required during a helicopter rescue situation.
The footage, shot from the helmet camera of one of the lifeboat crew members, shows the helicopter winchman lowering on to the all-weather lifeboat Pride and Spirit.
Two of the lifeboat crew are then winched up and lowered again, followed by a second pair.
The final part of the exercise, although not shown on the video, involved a stretcher being lowered on to the lifeboat deck, which the winchman connected to before ascending back to the helicopter.
The inshore lifeboat also took part in the exercise, simulating the complement of boats available at Arbroath.
A spokesman for Arbroath RNLI said: "It's all done on the move as you can see and gives both the helicopter and boat crew excellent training and experience in what's involved when we have a helicopter rescue situation."
The capacity for RNLI boat crews and Coastguard helicopters to work together can be the difference between life or death for someone who is stranded.
One helicopter rescue hit global headlines this week following the rescue of surfer Matthew Bryce off Argyll after he spent 32 hours clinging to his board.
Matthew's rescuers spotted him 13 miles off Argyll, winching him to a coastguard helicopter.
The 22-year-old faced certain death had he not been located by the chopper crew.
He had hypothermia and was saved by his thick neoprene wetsuit.
The search and rescue mission was launched after he was reported missing by his family when he didn't return from a surfing trip off Machrihanish beach near Campbeltown on Sunday morning.
Matthew, who was taken to recover in Belfast, said: "I am so grateful that I am now receiving treatment in hospital.
"I cannot thank those who rescued 
and cared for me enough – they are all heroes."
His dad John described the moment he heard Matthew was safe after Monday's rescue as "better than a lottery win".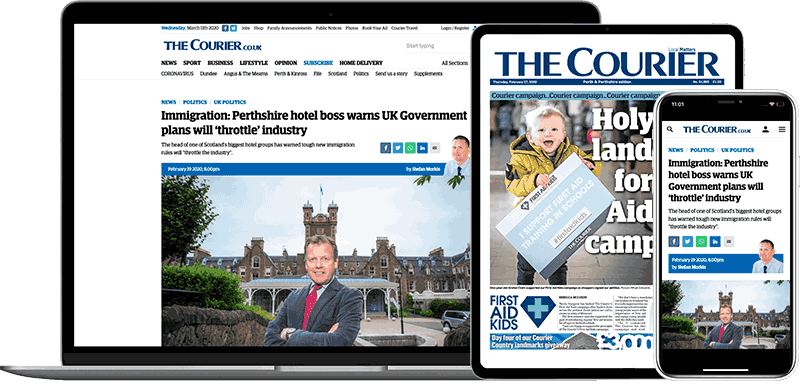 Help support quality local journalism … become a digital subscriber to The Courier
For as little as £5.99 a month you can access all of our content, including Premium articles.
Subscribe