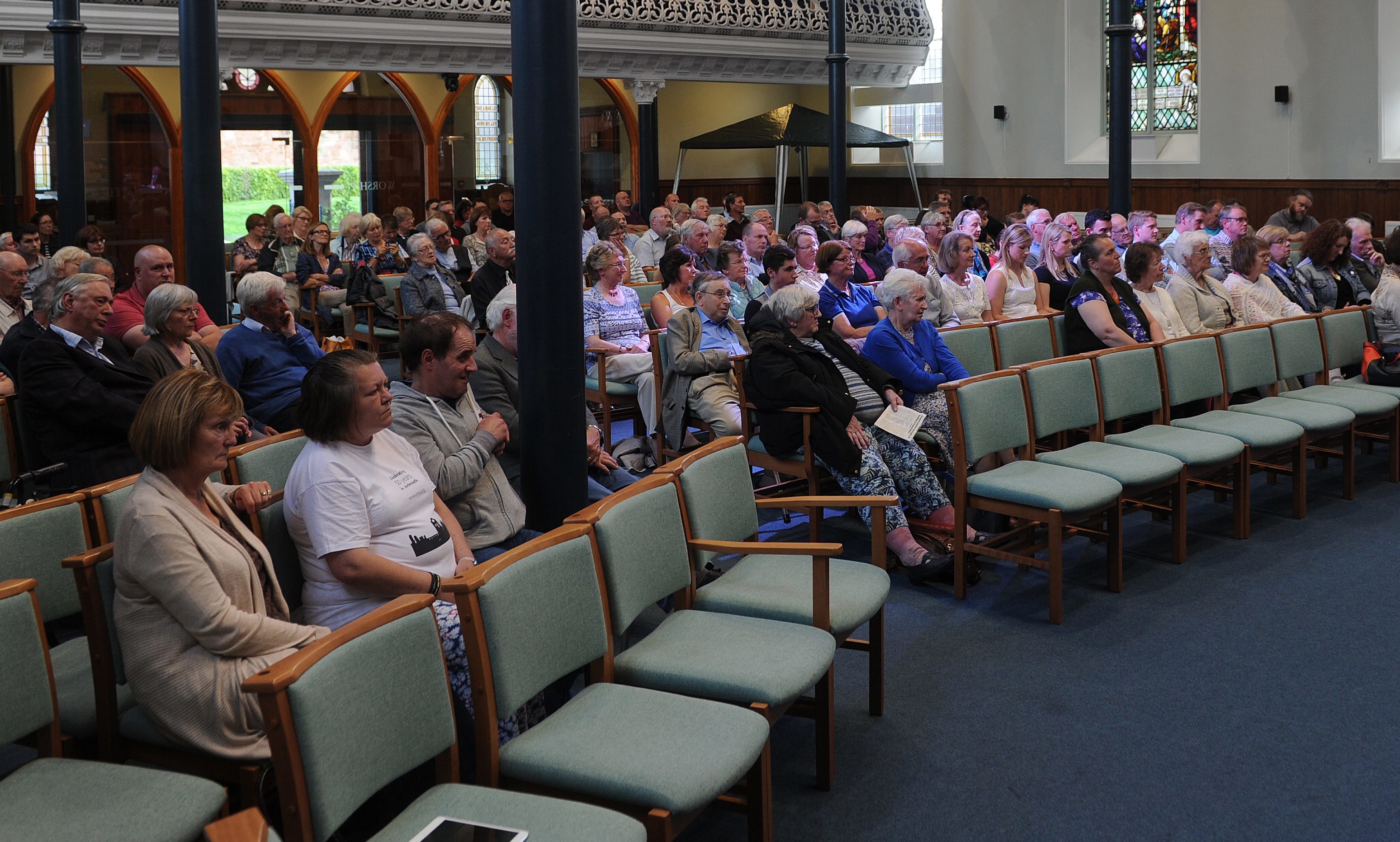 Tempers flared in Angus as the second evening of The Courier's hustings events took place.
The audience packed into St Andrew's Church in Arbroath to pose questions to candidates for the four main political parties – Mike Weir, defending the seat for the SNP, Conservative Kirstene Hair, Labour's William Campbell and Clive Sneddon of the Liberal Democrats.
The event was chaired by The Courier's editor Richard Neville.
The SNP were attacked over their handling of farming subsidies, a subject that dominated a large part of proceedings in the largely rural area.
One member of the public said that 50% of Scottish farms are unprofitable without EU payments, and challenged the panel to ensure continued subsidies
Ms Hair said: "The Scottish Conservatives have confirmed that cash payments to farmers will be secured to the end of this parliament and the SNP latched on to that policy – Fergus Ewing agreed with it yesterday – that they have that security.
"It's obviously a devolved issue and the Scottish Conservatives have a good team of MSPs in our Scottish Parliament with farming backgrounds – John Scott and John Lamont – and that's really important because they understand rural issues.
"That's simply something we don't have from the SNP, and that was shown with the CAP payment shambles – where a lot of farmers are still waiting on payments from that system.
"There was a £178 million paid out for the IT system which didn't work and was 75% over budget.
"In terms of post-Brexit I think it's really important because there's a number of areas of EU regulation that stifle farming and doesn't allow farmers to do what they want to be doing – and that is being out working the land."
Mr Weir hit back: "There is absolutely no certainty that once we leave the European Union whether the funds would still come to Scotland or whether it would be taken back to London and there would be a UK-wide system.
"That is a worry because if a UK-wide system works in the same way other UK-wide systems work then we'd end up with less funding for Scottish agriculture than we do at the moment."
Mr Sneddon said: "I think the British state has been its own worst enemy – give it a directive from Brussels and it goes into the civil service machine, which manages to write 1,000 pages of regulations.
"The directives are much more French in style – they are setting out principles. Transposition into British law has generated an awful amount of head-throbbing detail that we would all be better off without."
A member of the public asked for an explanation as to why farmers were still waiting on subsidy payments, despite a new computer system.
Mr Weir earned cries of derision after admitting he did not have an answer, saying: "I've not been involved in that, so I can't explain the ins and outs of that.
"I'm a member of the Westminster Parliament, I haven't been involved in that, but the fact a computer system doesn't work, I'm afraid in government that isn't unusual. The Westminster Government has had some pretty spectacular computer failures, with computer systems that have to be scrapped."
In response Mr Campbell quipped: "I wonder if that's the beginning of what we are going to hear from time to time tonight – that Mike Weir isn't defending the Scottish Government. I think it's probably quite useful for him to be able to draw that line. If only Nicola Sturgeon was keeping out of the Westminster election I would be very much happier."
He added: "It's simply not good enough to say the computer's not working, the answer is the computer's not been programmed properly but the people who are responsible for making sure that folk get the money they need are still responsible for making sure people get the money they need."
Ms Hair added: "It's a typical SNP answer when they don't take responsibility when they are wrong, or hold their hands up.
"It was a complete waste of taxpayers' money. It's a complete disrespect to the rural economy, which is very important to Angus, and I think its a bit of an insult for Mike Weir, who represents such a rural constituency, not to understand a system that is so important to them."
The final Courier hustings event will take place in Dundee tonight.
---
Comment: No place for the faint-hearted
If the hustings at St Andrew's Church, Arbroath, had an anger meter last night, it would have looked like any graphs with ups and downs – until the end. Then it shot off the scale, with participants still yelling their fury even after the night's chairman, The Courier's editor Richard Neville, called time on proceedings.
Obviously the good people of Arbroath had been gradually building up a head of steam.
It began quietly enough, with the candidates chatting politely as they waited for the audience to file in.
But when show-time began, the gloves were quickly off, with the civility between candidates quickly evaporating.
While the SNP's Mike Weir, defending the seat, may be the favourite, he couldn't have felt like a shoo-in last night during awkward questions about the Scottish Government's expensive lemon – the flawed £180 million IT system that failed to provide the vital support to farmers it was supposed to.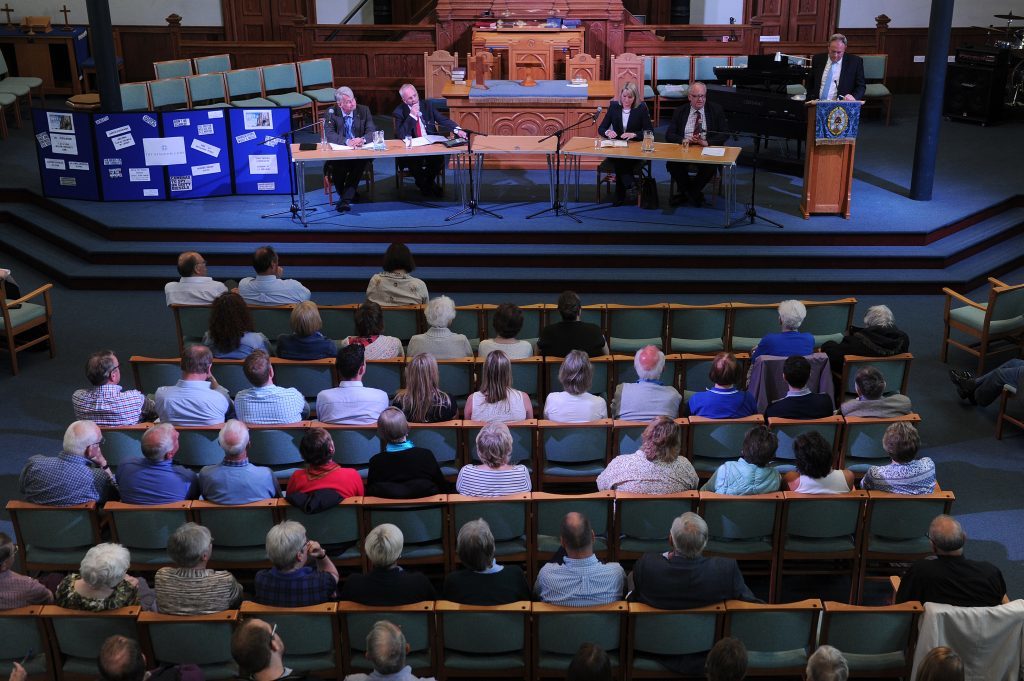 Agriculture, and the computer system failure, proved a hot-button issue.
Mr Weir's response – that he was not an IT expert – did not wash. He may have had moments of seeing his 11,230 majority look a bit less of a sure thing.
He did manage to recover lost ground when it came to denouncing the controversial Tory "rape clause", though, something a feisty Kirstene Hair for the Conservatives tried – and failed – to explain in a manner that made it palatable.
As the audience relaxed, so their derision levels rose, with Mr Weir and Ms Hair coming in for the most laughter – and not in a kind way – but also often the most applause.
Though, if there was an applause meter, Labour's William Campbell would probably have found he had scored his fair share.
Against this backdrop the Liberal Democrats' Clive Sneddon seemed almost statesman-like, adopting a big-picture, all-embracing position.
But really, although they were cross about education under an SNP government and not so happy about Brexit uncertainty and Scotland's future, the head of steam finally exploded when Kirstene Hair mentioned Scottish independence as being the real issue.
Then they really started shouting.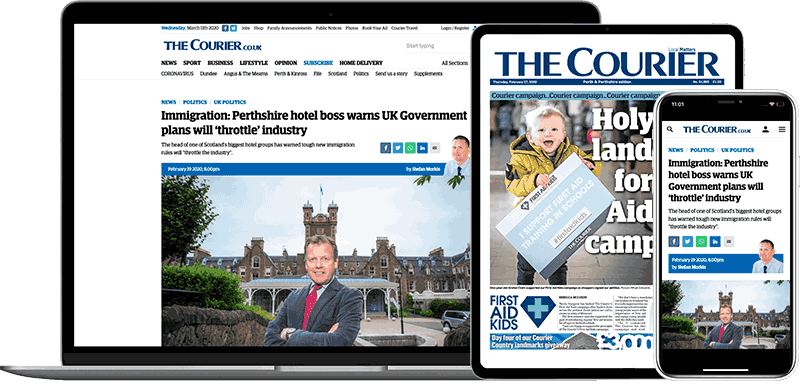 Help support quality local journalism … become a digital subscriber to The Courier
For as little as £5.99 a month you can access all of our content, including Premium articles.
Subscribe