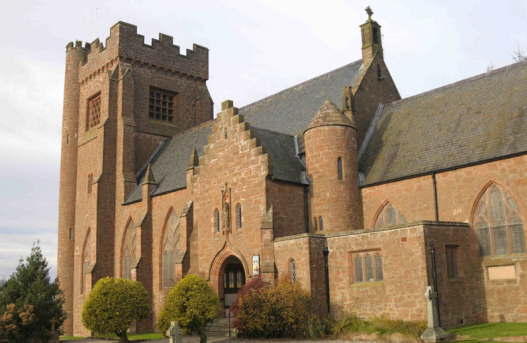 Urgent work costing £250,000 to conserve Kirriemuir's only A-listed building, St Mary's Episcopal Church, has started.
The fabric repairs on the West Hillbank building have been made possible thanks to a joint grant of £191,200 by the Heritage Lottery Fund and Historic Environment Scotland.
There were several generous grants from trusts as well as a legacy from Alison Prain, a local teacher who was a lifelong supporter of the church.
The project will involve urgent roof and masonry repairs as well as internal work to restore the building to its former glory as intended by architect Sir Ninian Comper.
St Mary's is an early example of the work of this renowned church architect who also worked on Westminster Abbey. St Mary's is one of only four he built in Scotland.
Revd Canon Dr Robert Harley, Rector of St Mary's said: "I am delighted that we have been able to start this project after several years of preparatory work by the vestry and church members.
"These are vital repairs and we are pleased that with the expertise of a dedicated team of specialists our beautiful church can be preserved for the future generations of Kirriemuir and surrounding areas."
The important building repairs include essential structural strengthening of the impressive West Tower.
During the project St Mary's will take the opportunity to introduce local young people to traditional masonry skills. A brochure is also being designed to document the history of the church building.
Prior to the work beginning, vandals damaged doors and set off fire extinguishers in the empty building, leading to a police investigation.
It is hoped that the work will be completed by September, in time for a re-dedication and thanksgiving service at the Harvest Festival on October 15.
The Most Reverend David Chillingworth, Bishop of St Andrews, Dunkeld and Dunblane and Primus of the Scottish Episcopal Church, commented: "I am delighted to hear the news of this grant which will help us to restore and sustain St Mary's.
"This is one of the most beautifully and architecturally significant churches in our diocese.
"The congregation and the wider church are determined to ensure that it continues to be at the heart of the community as a place of prayer — and of welcome and mission.
"We welcome this support which will help us to sustain it for the future."
The church was built in 1903 to replace an earlier church destroyed by fire. It has a window dedicated to JM Barrie's family.