Initial designs for the world-class children's theatre suite being created by NHS Tayside and the Archie Foundation at Ninewells Hospital have been revealed for the first-time.
The dedicated  paediatric unit will include a twin operating theatre suite at Tayside Children's Hospital in Ninewells that will allow significantly more children to receive their surgery in a dedicated paediatric environment.
The design images show a ward space that is bright and spacious, with access to outside play space. There are plans for play areas for children of all ages, and a parents' room which also leads outdoors.
Crucially, the twin surgical suite will mean that the operating capacity is doubled, allowing dental operations to take place in the Children's Hospital too.
The new surgical facilities will cost around £6 million and are being paid for by the Scottish Government and NHS Tayside, but  the Archie Foundation is raising £2 million to provide ancillary facilities to make the suite as attractive and effective as possible for the children and families who will be using it.
More than half of the funds have already been raised, with last year's hugely successful Oor Wullie bucket Trail contributing £883,000.
The designs, developed by RDA Architects, were created in consultation with clinical staff, patients, families and carers who use the current Dental Area 2A and Ward 30.
Lorna Wiggin, chief operating officer of NHS Tayside and the project sponsor, said: "I am delighted with the progress being made in the planning for the Children's Surgical Suite.
"The outline plans have been drawn up following extensive input from clinical staff of all disciplines and a number of workshops with families.
"The momentum of the project will continue into the next phase which will see the design develop in more detail.
"Our collaboration with The ARCHIE Foundation will undoubtedly provide a first-class facility for children and young people receiving surgical care in the new Children's Surgical Suite within Tayside Children's Hospital."
RDA Architects director Kirk Stewart said: "I am delighted with the design progress being made. We have had several successful workshops, including a patient and family group, which have all proven extremely beneficial to inform certain aspects of the design concept and the children's experience."
Dave Tipping, director of projects for The ARCHIE Foundation, said : "The layout will provide a clear journey for children and their families, from pre-op through to surgery and into recovery with lots of space for play inside and out."
The next stage of the process will be to add the details to each of the rooms and areas within the proposed layout, from equipment to floor and wall colours, materials and artworks.
ARCHIE Foundation's chief executive David Cunningham said: "This is a really exciting stage for the Children's Theatre Suite project. The fantastic design images and fly-through video will help people see just what they are raising money for and the difference it will make to local children."
How the theatre will help
Nearly 3,000 children a year will be treated in the new twin-operating theatre.
Dr Grant Rodney, paediatric consultant anaesthetist with NHS Tayside said it will make it easier for staff to care for children and their parents.
Dr Rodney, who is a member of the project team, said: "Approximately 3000 children have surgery in Tayside each year, with only half of those children being accommodated in a child and family friendly environment.
"The proposed twin operating theatre complex with its accompanying assessment area, treatment rooms, play and adolescent facilities, and ward spaces will accommodate the majority of children.
"In particular, many of the children currently treated in adult facilities will benefit from the environment, decor, specialist trained nursing medical and play staff which cannot all be provided in the existing dental treatment facilities and in the adult operating theatres.
"In addition to building this twin operating theatre suite complex, the facility will be adjacent to the inpatient children's ward, facilitating close working between all staff caring for children. This will add to and build on the Tayside Children's Hospital role and standing.
"In short the facility will be a wonderful space allowing children and families to spend time in an environment suitable for children of all ages, with support from dedicated children's nursing, medical, support and play staff."
Consultant Paediatric surgeon Amanda McCabe said: "We're feeling so excited about the twin theatres – it will provide a spacious, up-to-date facility with versatility for all staff treating children at Tayside Children's Hospital."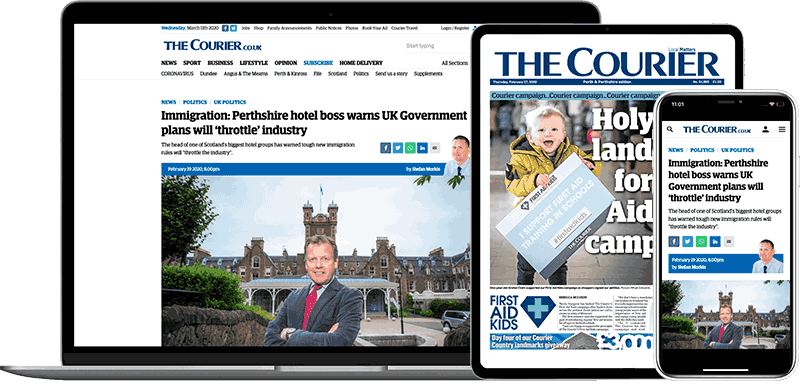 Help support quality local journalism … become a digital subscriber to The Courier
For as little as £5.99 a month you can access all of our content, including Premium articles.
Subscribe