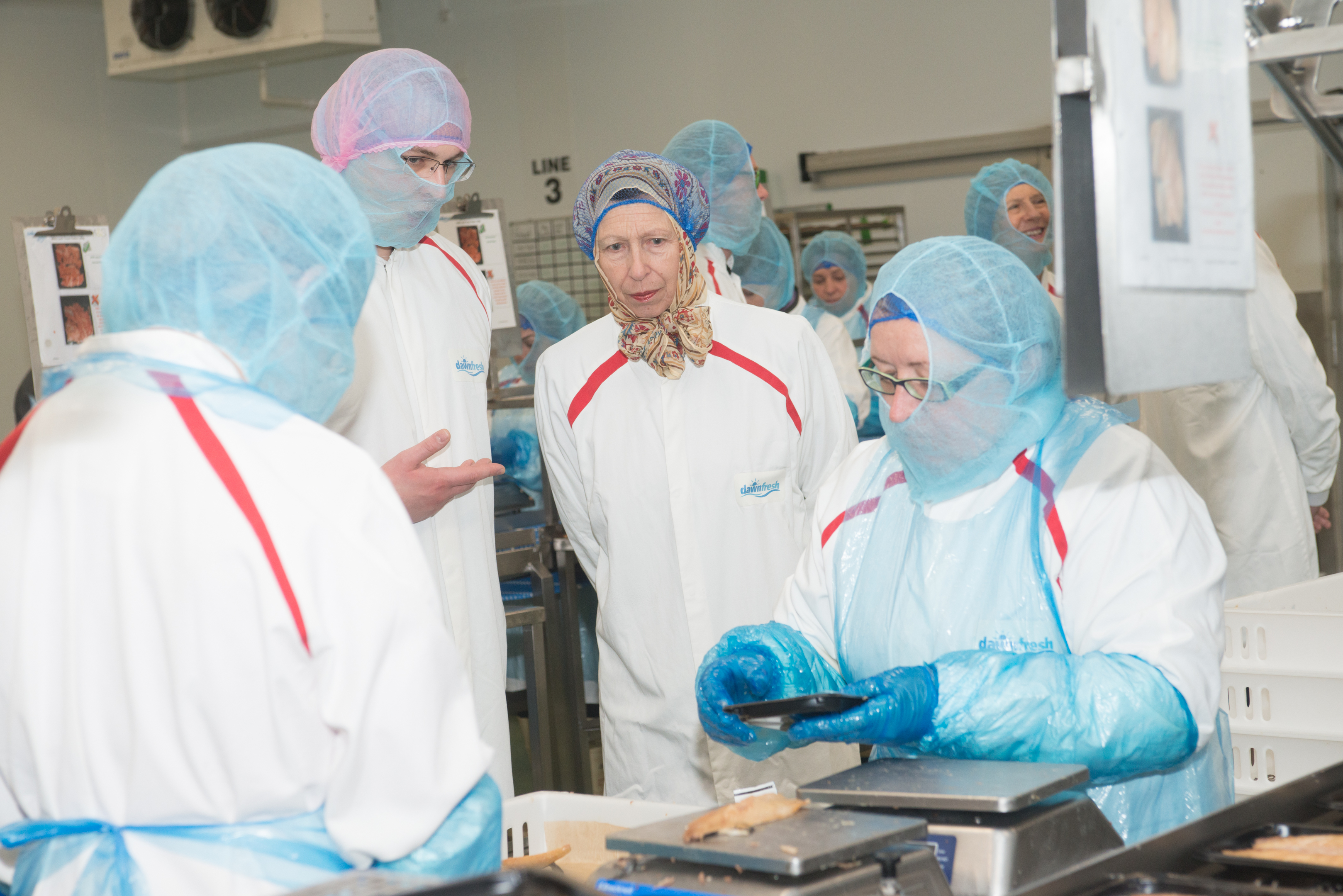 One of Scotland's oldest fishing businesses was given the Royal stamp of approval when the the Princess Royal visited RR Spink & Sons in Arbroath.
Princess Anne visited the fishmongers to mark the £3.1 million expansion of its Arbroath facility.
RR Spink, which is part of the Dawnfresh Seafoods group, holds the Royal Warrant as fishmongers to the Queen.
The royal visitor met staff and local dignitaries before being shown around by company chairman Alastair Salvesen.
Mr Salvesen said: "We grateful that her royal highness has come to see for herself how the fish we supply to her majesty and her guests is sourced, prepared, processed and packed to the highest standards.
"High quality seafood is something for which Scotland is famous around the world.
"RR Spink have been part of that story for more than 300 years and at Dawnfresh we are very aware of the responsibility this history brings.
"We are already one of the largest employers in Arbroath and this expansion and modernisation of the site has raised our facilities and equipment to a very high standard.
"This and our determination to the training all our employees, will enable us to grow our business significantly for the next 300 years."
The princess has recently become the prime warden of The Worshipful Company of Fishmongers.
During her visit, the Princess Royal witnessed how products were made, from the arrival of the ingredients to the finished product being despatched to supermarkets and other outlets across the UK.
She also learned how the company guarantee the quality of all products as well ensuring the highest possible safety and food hygiene standards during production.
At the conclusion of her tour, she unveiled a plaque to commemorate the opening of the site, signed the visitors' book and congratulated the RR Spink staff on their hard work.
A team of 170 in Arbroath prepare each product by hand, from curing and smoking to slicing and finishing, and producing around 170,000 packets of fish a week.
Dawnfresh Seafoods and Dawnfresh Farming have been endorsed by RSPCA Assured for their sustainably farmed trout, reared in a way that mimics those in which they would live in the wild and meet the highest welfare standards.