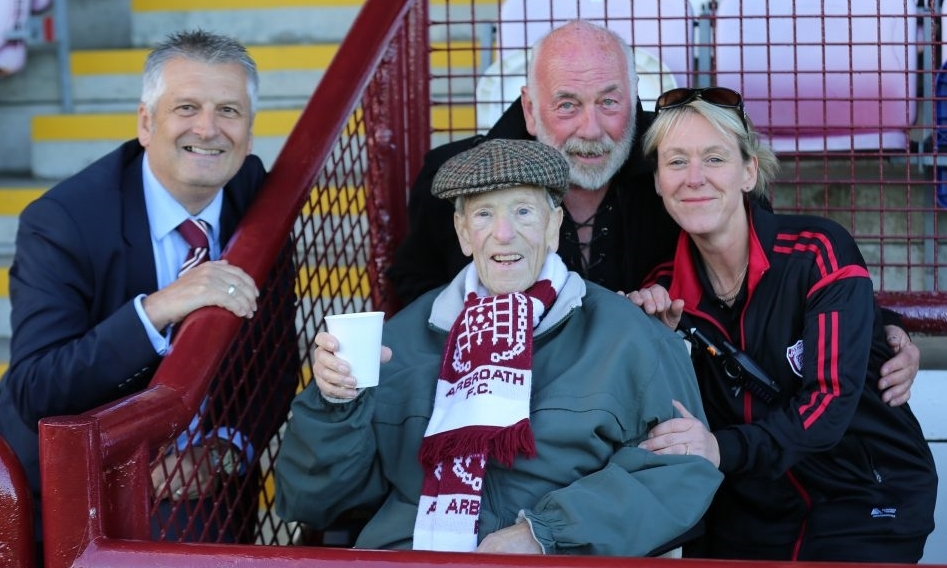 Tributes have been pouring in for one of Arbroath FC's most famous fans, who supported the club for 77 years.
Angus Nairn passed away peacefully at home with his family and his seat was kept vacant during Saturday's win against rivals Montrose, with an Arbroath FC scarf tied to the barrier in his memory.
The final game he attended was a pre-season friendly against Bolton where he was described as being in "fantastic spirits".
Two days later at the end of season dinner for the Arbroath Chest Heart and Stoke Association at the Meadowbank inn, Mr Nairn was commended for the work he did for the charity's Thursday Club.
One of Mr Nairn's closest friends Dave Ramsay said: "As a lad of five years old, Angus was inducted to Gayfield Stadium, where for the next 77 years he devoted his loyalty to his Lichties and latterly his star player, Ricky Little.
"On Wednesday this coming week, the day of his funeral, AFC have decided to fly the AFC flag at half-mast as a mark of loyalty and respect for the family, and the funeral cortege will drive past Gayfield and the flag, as Angus passes Gayfield for his very last time.
"A silver quaich will soon be donated to AFC as The Angus Nairn Memorial Trophy – a trophy to be presented annually, for "The best newcomer to the team" from the best, loyal, long-serving Lichtie.
"This decision will be that of the manager and directors, and will serve to keep the memory of Angus Nairn alive, for many, many years to come.
"Charlie Wood, his friend, is also going to sponsor a match day football in August, in memory of Angus."
A spokesperson for the club said: "It is with deep regret that we pass on the sad news that devoted Lichtie Angus Nairn has passed away.
"Everyone associated with Arbroath FC would like to pass on their deepest sympathies and regards to Angus's family and friends and our thoughts are with them at this terribly sad time."