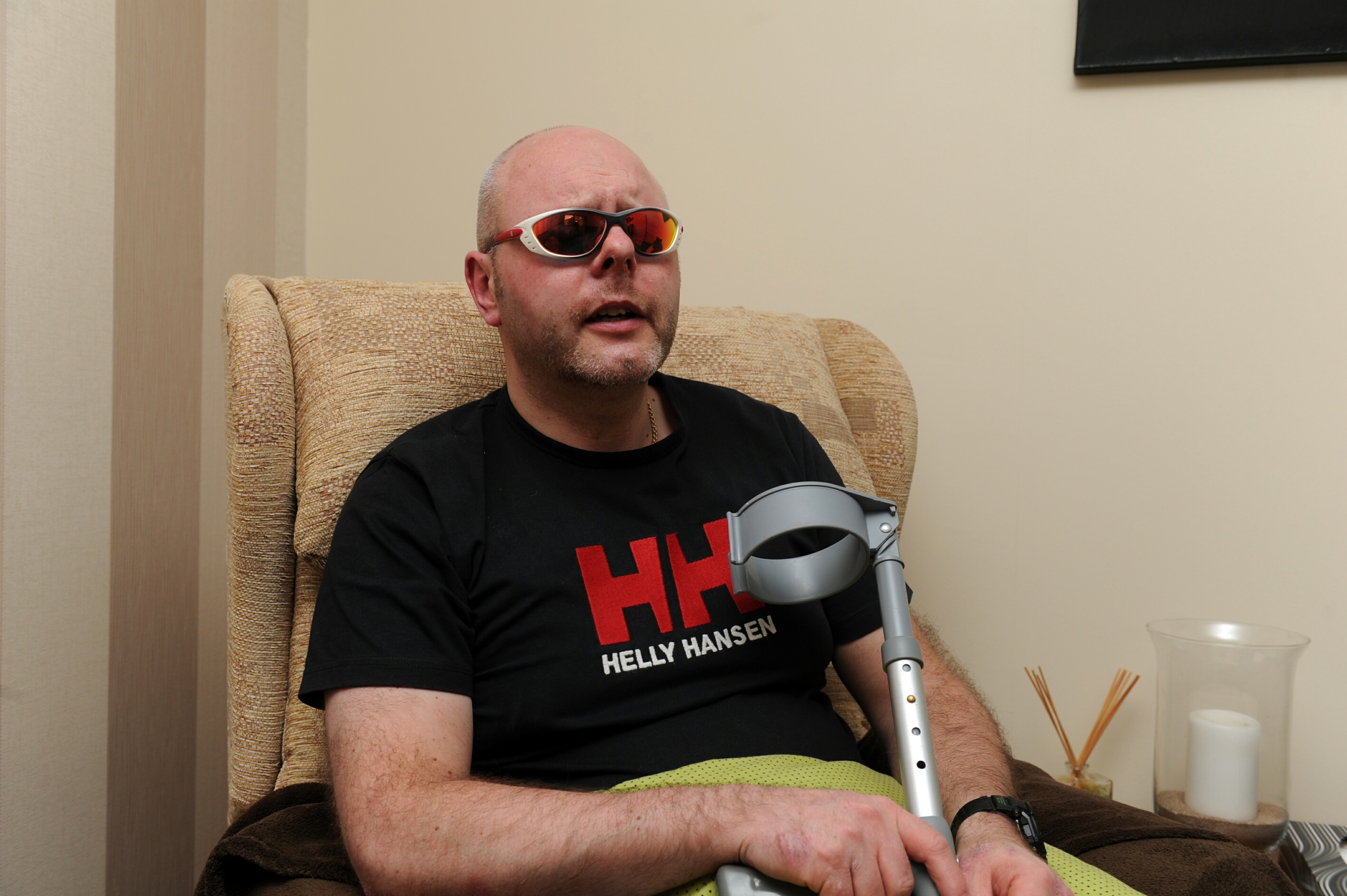 A dying Angus man has told how his fight to raise awareness of his rare condition was damaging his health.
Dad-of-two Keith Swankie, 46, from Arbroath said the "repercussions of overdoing it" made him take the decision to take a step back and pull back from "all out war" and live a more peaceful life.
It was a difficult decision for Mr Swankie, a former supermarket manager, who was diagnosed with a debilitating disease called progressive supranuclear palsy (PSP) in 2012.
He was diagnosed more than two years after suffering from eye problems, and the life expectancy from onset is thought to be around eight years.
Despite struggling with his condition, Mr Swankie initially campaigned across the UK to raise awareness and secured a reception at the Scottish Parliament in 2015.
One of the outcomes of Mr Swankie's campaigning was the creation of a new Clinical Research Fellowship in Scotland.
But five years after being diagnosed, Mr Swankie said awareness of the condition is no further forward than it was in 2012 and he can't see a cure on the horizon in the next few years.
"I think awareness is probably no further forward than it was five years ago if my last two hospital visits were anything to go by," he said.
"I had a fall in the house which led to being taken to hospital with pneumonia which can be fatal for sufferers of PSP and the crew were not aware of the condition.
"In the ward at handover I heard the nurses say he's got PTSD (post traumatic stress disorder).
"A more recent example of lack of awareness was a visit to the dentist to extract a tooth but it took Sheelagh (Mr Swankie's wife) to come with me to explain the risks involved in this due to the illness which hadn't been factored in at all.
"I suppose you could ask why am I not still beating the drum?  It's simple — really getting frustrated about it will only exasperate the symptoms so it's better really just getting on with it and enjoying the positives.
"I would love if a cure or something that could slow its progress was available more than ever as you see your family mature and you want to be part of that.
"I suppose it could be seen as defeatist not campaigning but you want to enjoy that time.
"As the illness has progressed the more active you are physically or even mentally you know it will kick you back harder and for longer so I suppose I've learned to try and manage the balance of activity versus the repercussions of overdoing it and how this impacts on the family as it's not just me.
"And that's a victory for me as it's one up for me over PSP."
Progressive supranuclear palsy (PSP) affects around 4,000 people in the UK.
The condition causes the rapid death of nerve cells in the brain, leading to a loss of movement, mobility, speech and a number of other symptoms.
Mr Swankie will be travelling to Milton Keynes with his wife to raise funds for the PSP Association and help out with a new five-year strategy later this month.
He said: "Although I am going to Milton Keynes I know there will be a price to pay later but it'll be worth it.
"I am finally pacing myself — little battles chosen wisely instead of all out war."