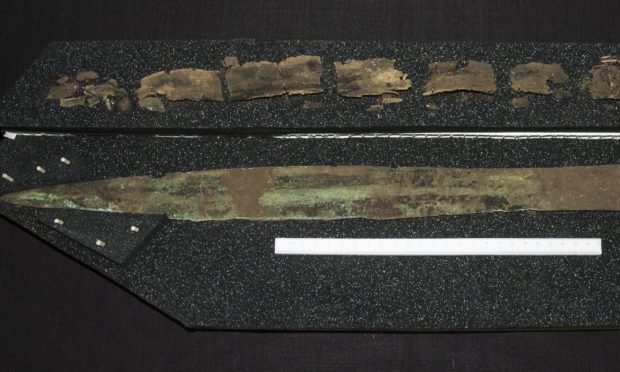 Angus Council has reaffirmed its intention to bid to keep the Carnoustie treasure trove in Angus as research work on the hoard continues.
The remarkable haul of ancient artefacts at Balmachie has been described as being of international significance and the magnitude of the find unrivalled in Scotland.
A gold-decorated spearhead, a bronze sword and a leather and wooden sword sheath — believed to be the best preserved late Bronze Age scabbard in Britain — were found at the site beside Carnoustie High School.
The discovery has led to calls for a museum to be established in Carnoustie to display the items.
However, treasure trove rules meant the items are claimed automatically by the Crown and must be reported to the Scottish Archaeological Finds Allocation Panel.
The panel is responsible for recommending to the Queen's and Lord Treasurer's Remembrancer which museum should be allocated the finds.
An Angus Council spokeswoman said finding a home for the trove may require alterations to exhibition spaces in the county if the local authority's bid to have the items returned to Angus is successful.
She said: "The final care of the finds will be carried out in keeping with Scottish legal requirements as set out in the Treasure Trove Code of Practice (2008).
"We will be making the case for the retention of the finds in the Angus area.
"This will require adequate archiving and display opportunities and the council has still to determine if any alterations will have to be made to existing exhibition spaces."
Roundhouses, jewellery and pottery dating from around 2200-800 BC were also found during the 18-week dig.
The excavation also uncovered the largest Neolithic hall ever found in Scotland, dating back to 4000 BC.
The council's contractor for the archaeological excavation, GUARD Archaeology, has submitted a report on all findings and has provided a post excavation research design.
This outlines the detailed analysis, publication and archiving of the results of the excavations required.
The council spokeswoman added: "We will shortly be tendering for these works, which we anticipate will be carried out in the next 12 to 18 months.
"In the meantime research and conservation of the fragile hoard items, including a bronze sword and gold-decorated spearhead, continues at GUARD Archaeology to ensure their preservation for future display.
"We will submit a final report to both the archive of the National Monuments Record and the Angus Sites & Monuments Record archive."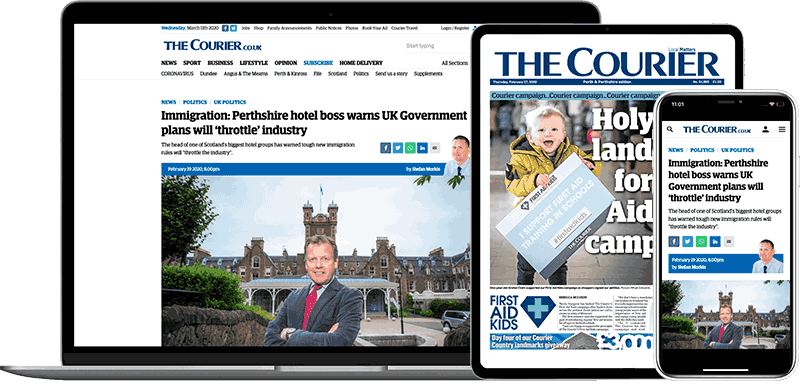 Help support quality local journalism … become a digital subscriber to The Courier
For as little as £5.99 a month you can access all of our content, including Premium articles.
Subscribe