The location couldn't be further from the beaches of Malibu or the catwalks of Paris.
Top British fashion designer Stella McCartney chose a far less glamorous location to photograph her latest collection – a landfill site in Angus.
It has emerged that striking images which show models dressed in £1,000 dresses against a backdrop of crisp packets, tattered newspapers and a rusting car were shot at Restenneth, near Forfar in June.
The designer, daughter of Beatle Sir Paul McCartney, said the location stayed true to her commitment to sustainability and responsibility.
Angus Council's communities director Alan McKeown added: "Reduce, reuse, Restenneth! The best recyclers, Angus Council, only attract the best designers to their landfill sites."
Reduce reuse Restenneth! The best recyclers @AngusCouncil only attract the best designers @StellaMcCartney to their landfill sites. https://t.co/muqlc8mEf1

— Alan McKeown (@s70amk) August 27, 2017
The local authority's economic development head Alison Smith described the images as "amazing". She said: "Angus Council staff did a great job and Tay Screen sorted it all out."
The designer intended the images to explore the issue of waste and consumption. More than half of the materials used in the collection are from sustainable sources.
Ms McCartney said: "The idea we had with this campaign is to portray who we want to be and how we carry ourselves; our attitude and collective path.
"Our man-made constructed environments are disconnected and unaware of other life and the planet which is why there is waste."
The campaign images bring together Brit Kos, Iana Godnia and Huan Zhou. The video also shows the models walking around the skip.
The photographs were taken by Harley Weir in collaboration with artist Urs Fischer.
Artist Urs Fischer added: "Stella's fashion to me is about dignity, love and a beautiful attitude to all challenges.
"All while feeling good and looking great and we wanted to reflect that in the concept of this campaign."
Stella McCartney launched her fashion brand in 2001 following a stint as creative director of Paris fashion house Chloe.
Her designs have been worn by many famous faces including the Duchess of Cambridge, Taylor Swift, Emma Watson, Cameron Diaz and Emma Stone.
She also designed the British kit for the London 2012 Olympics.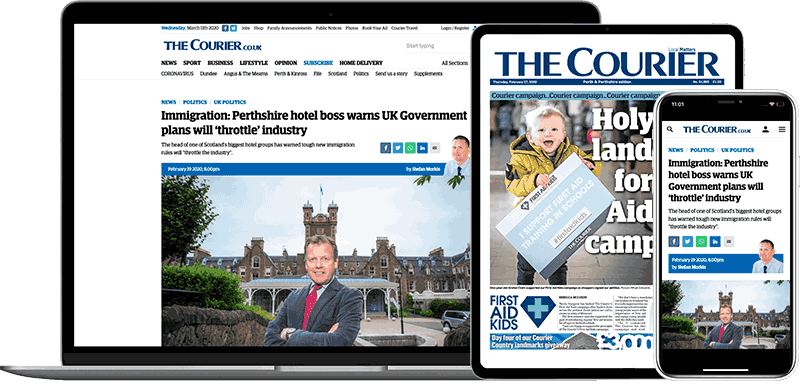 Help support quality local journalism … become a digital subscriber to The Courier
For as little as £5.99 a month you can access all of our content, including Premium articles.
Subscribe