Amanda Kopel has been left "ecstatic" after being told that Frank's Law will take effect by April 2019 and benefit at least 9,000 families.
Health Secretary Shona Robison visited Mrs Kopel at her Kirriemuir home on Thursday to congratulate her on her campaign and discuss the implementation of the changes.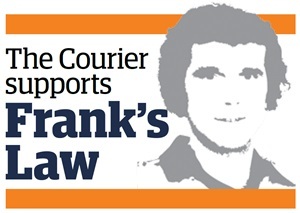 Backed by The Courier, Mrs Kopel has campaigned for the introduction of free personal care for everyone who requires it, regardless of age, since 2013 after her husband and ex-footballer Frank was diagnosed with dementia.
The Dundee United legend died in 2014 just weeks after his 65th birthday.
Mrs Kopel said: "For the past 48 hours I have felt like someone is going to pinch me and say it has all been a dream.
"Now I know how Frankie felt when he scored the winning goal for Dundee United against Anderlecht in the UEFA Cup.
"I'm absolutely ecstatic."
Ms Robison and Mrs Kopel had a chat over a cup of tea and there were a few tears as Mrs Kopel recalled some precious memories that she shared with her late husband.
Mrs Kopel also paid tribute to the overwhelming support she has received during her journey from "Frank's Army".
"I couldn't have got to where we are today without that support behind me," she said.
"It's over to the politicians now but if I can help in any way I will because I have the experience of living with a young person with dementia."
Mrs Kopel will now turn her attention to the Frank Kopel Foundation which is being set up to offer support to former football players with dementia.
She has also been invited by Dundee United to celebrate the success of the campaign by going on the pitch at Saturday's match against Dumbarton to speak to the fans.
Mrs Kopel is also hoping to go away on holiday to Cala d'Or in Majorca which is a place they both loved and where some of Mr Kopel's ashes are scattered.
"We went back 30 times and our family have grown up there – it would be nice to go back," she said.
"Usually I go back every year on his anniversary just to throw a few red roses but I missed it this year because I was in hospital."
Ms Robison said Mrs Kopel has played a crucial role in bringing issues around personal care for under 65s to light and in ensuring they have remained prominent in the public's mind.
She said: "At least 9,000 people will benefit from this change and we will work closely with local government and others to implement these changes so that all those who require personal care are able to access it."
Ms Robison said the Scottish Government would use Mrs Kopel "as a sounding board", adding that what Mrs Kopel has to say "is always worth listening to".