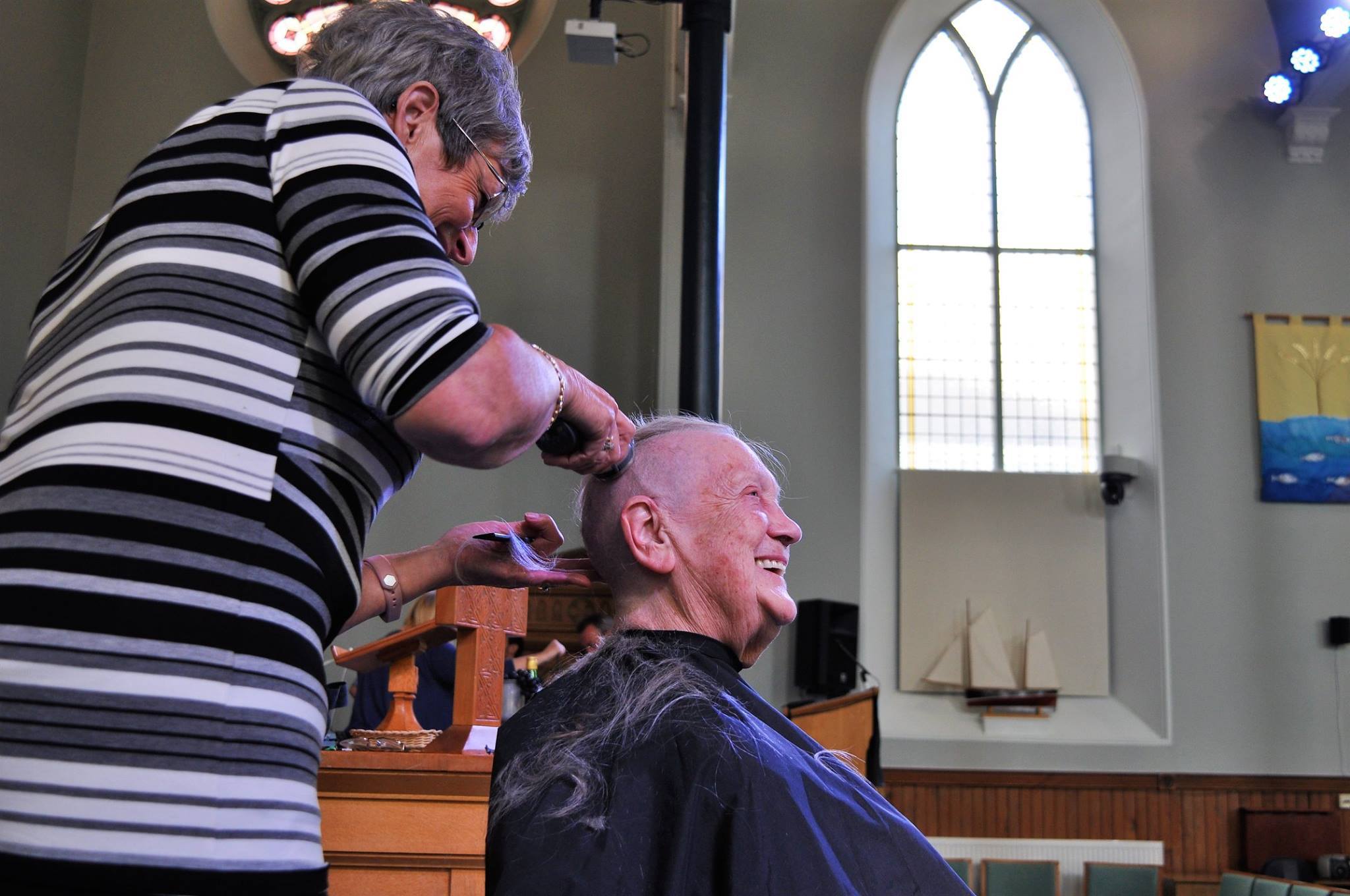 An Angus great-grandmother has told how she is getting used to life as a skinhead after losing her locks for charity.
Plucky May Smith, 88, got her head shaved in front of her church congregation in memory of her late husband John who died of lung cancer 40 years ago.
Mrs Smith, an elder at St Andrew's Church in Arbroath, said she has never forgotten the care he was given from Macmillan nurses and wanted to give something back, eventually raising more than £4,000.
She got in touch with Reverend Martin Fair to ask the church for support after seeing the advert for Macmillan's Brave the Shave while watching TV.
Mrs Smith said: "When my husband was ill he came home from hospital to die at home and Macmillan nurses came in four times a day to give him his injections.
"I will always remember the care he was given before he passed away.
"At my stage of life there's not a great deal I can do physically but when I saw the advert I thought: 'I can do this'. I'm overwhelmed with the response.
"When I registered I was asked to put down my fundraising target and I thought I would only manage to raise £500."
Mrs Smith was given the chop by fellow elder Noela Watson who used to own her own salon and she said the skinhead look has led to her family members doing a double take.
"I'm still getting used to my new look," she said.
"My family all think I am crazy but they still love me. They all think I look like my younger brother Bill who lives in Canada. There is certainly a resemblance!"
Rev Fair said Mrs Smith – who has spent her life serving others – was "an inspiration".
"She called and asked if she could speak to me and it did tweak my imagination," he said.
"If I had made a list of 100 things that she was going to say then a head shave wouldn't have been anywhere near it!
"I was taken aback at first but when she gave me her backstory it made perfect sense."
Mrs Smith, who has six grandchildren and six great-grandchildren, was previously a missionary in Kenya and was still volunteering at the church's Havilah Project – which supports people with addictions – well into her 80s.
Rev Fair added: "She was never the kind of person to think: 'Well, it's time for the slippers and the cardigan'.
"She's kept looking for different ways to serve and she's an inspiration.
"People that I've spoken to also think she suits the skinhead look – she looks great."
Grandson Craig Smith said he's always been his gran's number one fan but he's never been prouder of her.
"She looks good as a skinhead," he said.