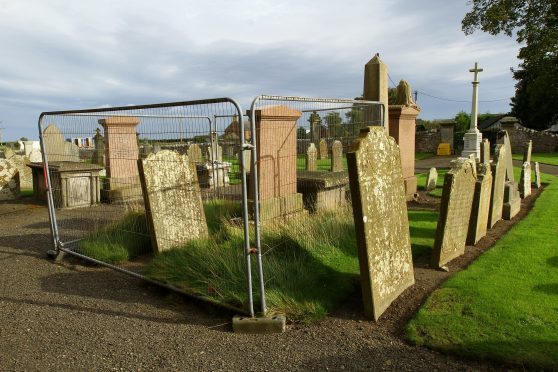 Gravestones in an Angus churchyard have been fenced off because of safety fears.
Angus Council has erected fences around two headstones in the grounds of Inverkeilor Church graveyard after inspections deemed them to be a risk to the public.
Graveyards across the country are being assessed after a loose headstone crushed eight-year-old Ciaran Williamson in Glasgow in May 2015.
Last year, an inquest into the boy's death heard the stone was "so perilously balanced" that "even a strong gust of wind" could have blown it over.
An Angus Council spokesman said the measures have been put in place to "prioritise the safety" of members of the public.
The spokesperson said: "Our inspections found these headstones were unstable and as such presented a risk to the public.  They have been fenced meantime as we make attempted to notify those relatives concerned.
"Where we are unable to do so, we will act to make the headstones safe. We are certain that people will fully appreciate we have prioritised the safety of those attending at the cemetery."
Though recognising public safety is the priority, Arbroath councillor Brenda Durno, said she hoped the fences could be made to look "a bit nicer".
She said: "On the backdrop of the fatality in Glasgow, I can see why it's important.
"However, visitors, such as those attending weddings have been complaining that it looks awful. You don't really want something that looks a bit like a construction site in the background of your wedding pictures.
"I would like for someone to come and help. Maybe a local gardener could come and make it look a bit nicer.
"I'm not sure if the council can do anything about it really money-wise so that's why I think if anybody wanted to help by planting some nice flowers it would be greatly appreciated.
"It would take a while to plant trees of course but perhaps a retired gardener could help out and put something in place.
"You can't really put a board up or anything as that would block out the gravestones."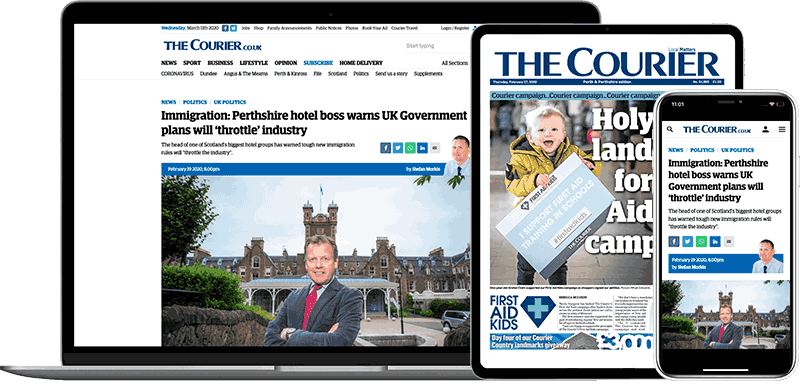 Help support quality local journalism … become a digital subscriber to The Courier
For as little as £5.99 a month you can access all of our content, including Premium articles.
Subscribe