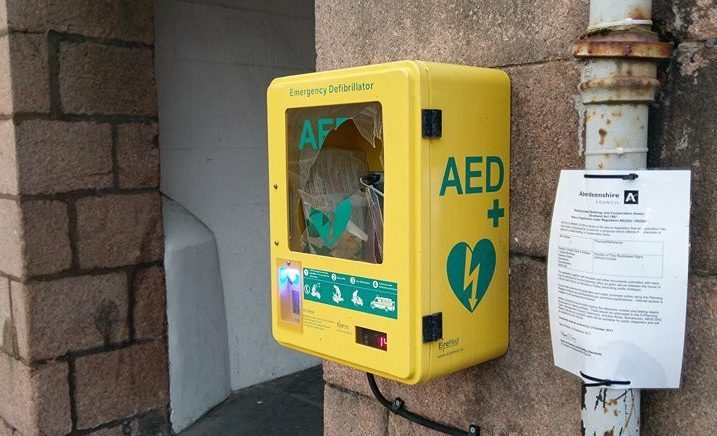 A life-saving piece of equipment in Stonehaven has been damaged in what HM Coastguard Angus & Mearns have described as "mindless"  vandalism.
The outer casing of the community defibrillator in Stonehaven's Market Square was damaged with police confirming the incident was reported to them at around 7pm on Saturday September 30.
It was installed in December last year by Stonehaven and District Community Council after it was was donated to the town by Baker Hughes along with John Trudgill.
John's brother Peter tragically died in 2014 after a huge wave swept him in at Stonehaven harbour.
Peter, 43, from Westhill, had been walking with his family when the wave hit with brave police and members of the public managing to pull him from the choppy water 40 minutes afterward.
He died in hospital hours later.
HM Coastguard Angus & Mearns said in a Facebook post: "We are saddened to report that some mindless individual thought it was a great idea to vandalise the community life saving defibrillator."
A spokesperson for the Tayside division of Police Scotland said: "We received a call at 6.53pm on Saturday September 30 over reports of damage to a defibrillator located in Market Square, Stonehaven.
"The outside casing has been smashed, however the defibrillator remains in place.
"We are currently reviewing CCTV in our investigation into the cause of the damage."
A defibrillator can prove vital in the event of an emergency and it is considered essential for each town to have one available 24/7.
The incident comes after a similar piece of community-funded equipment, which can cost upwards of £1000, was damaged in Kirriemuir's Reform Street only a week ago.
Community figures blasted the culprits with the machine temporarily removed from its cabinet and placed in the nearby police station.
Like Stonehaven's defibrillator, it was only put in place last year after Kirriemuir community council managed to raise enough cash to purchase one.