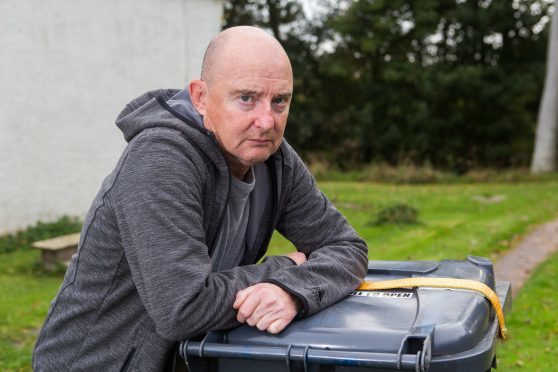 An Angus man has spoken of the terrifying moment his 76-year-old neighbour threatened to bash his head with a metal pole.
60-year-old Adrian Quantock was in the middle of moving his wheelie bin in Ethie Greens, Inverkeilor, when grandfather-of-four Andrew Alexander Wallace, 76, pushed him over, leaned over him and threatened him with the weapon.
First offender Wallace was fined £300 at Forfar Sherriff Court for the incident, but his victim said his neighbour had tormented him and his wife for three years — even accusing them of pushing drugs — before the feud came to a head on September 20.
Mr Quantock said: "He has it in his head that we are drug dealers and he lets us know how much he dislikes us on a daily basis.
"Like all the other residents in the street, we have been putting our bin near his home for years because it's the only place suitable for collection.
"As usual, when I moved the bin back there from the main street after it was emptied, he began to verbally abuse me.
"I tried to drown it out by singing but I turned around and he was approaching me with a metal pole in his hand.
"It was terrifying. I didn't know what he was capable of. I quickly pulled out my phone so that I had evidence of what he was doing."
At Forfar Sheriff Court, former engineer, Wallace admitted acting in an aggressive manner towards his neighbour, swearing at him and leaning over him and threatening him with violence, all whilst in possession of a metal pole.
He further admitted repeatedly pushing Mr Quantock on the body and being in possession of an offensive weapon during the September 20 attack.
Solicitor Brian Bell said the the placement of the bins outside his client's house "hasn't helped matters" as the feud escalated.
Sheriff Murray told Wallace: "I'm sure it is an embarrassment to you to be standing here in the court at the age of 76 for the first time."