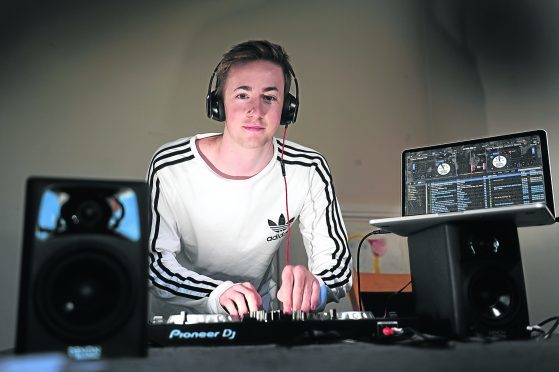 A Tayside teenage DJ says he has been "completely blown away" by his continued international success.
Conor Donaghey, 19, from Monifieth, released his first remix, I Need A Miracle, several months ago and it charted around the world.
His success has now shot to heights he "never could have imagined" with latest track, Missing, charting even higher than his first single in continents across the globe.
Released just a few weeks ago, it currently sits at 21 in the European DJ Download Charts,  as well as featuring in charts in the USA, Africa and Asia.
"I am still perplexed by it all. It has been absolutely crazy," he said.
"It is amazing the reception the new track has got considering it has only been out for a few weeks. People have started to say to me 'oh you're famous now' but I just laugh it off and say that I'm not.
"I still have a long way to go yet but it really has come as a big shock."
Conor is now a verified artist on streaming site Spotify, which has led to Missing being streamed thousands of times a day by people around the world.
His first track has also so far been streamed over one million times on online music platform Soundcloud.
Conor said ever since learning of his initial success, the local community has been encouraging him in his mission to reach the heights of top DJs such as Dumfries-born sensation Calvin Harris.
He said: "People have been coming in to the Post Office where I work and encouraging me a lot. Everyone is behind me which has been great.
"I've had young people get in touch with me as well asking how to get started producing tracks. I don't think there are that many people my age in Tayside or Scotland producing which is kind of strange.
"If I can encourage more people to try it out then I'd be really pleased.
"One of my biggest aims now is to get my own studio. I don't see any reason why I can't keep achieving."
To download Conor's new track on iTunes, visit https://itunes.apple.com/gb/album/missing-single/id1281021936