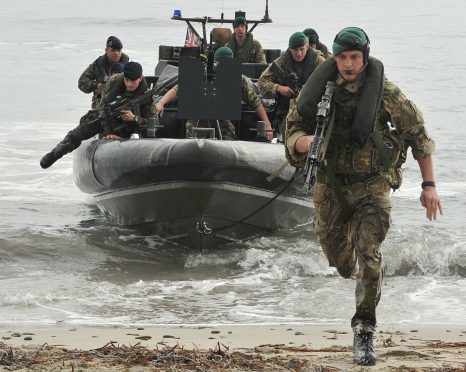 Angus-based Royal Marines have jetted across the Atlantic to take part in a major multi-national military exercise involving personnel from seven different countries.
Some 650 personnel from 45 Commando on the outskirts of Arbroath will be part of Exercise Bold Alligator on the terrain of North Carolina, alongside military counterparts from the US Marine Corps, Norway, France, Canada, Brazil and Mexico.
The next six-weeks will see them practising the combat capabilities which make them some of the most feared and respected troops in the world.
45 Cdo CO Lieutenant Colonel Duncan Forbes, who took over command of the Angus unit just weeks ago, said: "This is a fantastic opportunity for us to hone our amphibious skills in a fast-paced and complex scenario with our closest international partners.
"The ability to launch from the sea at a time and place of our choosing is still unique to the Royal Marine Commandos.
"From amphibious operations to disaster relief, the Royal Marines are able to fulfil a wide variety of roles, as we've seen in the Caribbean over the last few weeks."
During the exercise the Arbroath marines will practise high intensity amphibious operations and urban warfare alongside their international colleagues.
Hosted by the US, Bold Alligator has been held annually since 2011, providing troops with an opportunity to exercise and showcase the capabilities of their maritime teams.
RM Condor is home to 45 Commando Royal Marines, part of 3 Commando Brigade.
The site also houses 7 (Sphinx) Battery, part of 29 Commando Regiment Royal Artillery, 2 Signals Squadron from 32 Signals Regiment and 30 Commando Information Exploitation Group Royal Military Police Detachment.
Royal Marine training takes 32 weeks, with officers undertaking 60 weeks.
The gruelling training programme ends with the infamous Commando Course, a 30-mile march across Dartmoor with equipment and rifle which needs to be completed in less than eight-hours. Those who are successful earn the right to wear the famous Green Beret.