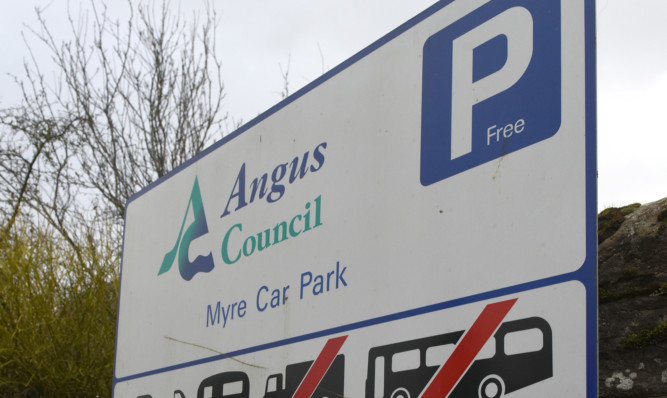 SNP councillors have declared any move towards Edinburgh-style parking controls in Angus should be a "non-starter".
Lynne Devine, Bill Duff and Alex King all spoke out against the notion of residents permits during a debate on decriminalising parking enforcement yesterday.
Members of the policy and resources committee considered a report by Ian Cochrane – the council's head of technical and property services – which warned the scheme could take up the equivalent of all available on-street parking in Angus town centres.
Mr Duff said: "If we sell a quarter of the residential parking tickets to people who live in high streets we will use up all the spaces that we have created and we will be back to square one.
"If you look at the towns in Scotland that have resident parking they tend to be the larger ones, not small places like we have in Angus and I think this would be completely inappropriate.
"Frankly this is something we should be kicking well into the long grass."
The council has received a small number of requests for residents parking zones in town centres in the past.
One scheme, at Little Causeway in Forfar, was introduced and subsequently scrapped.
Residents can currently park unrestricted in Angus in parking areas and on single yellow lines from 5.30pm-8.30am Monday to Saturday and all day Sunday.
Permits would allow residents to park unrestricted in parking areas which are currently limited to 30 minutes, but not on double or single yellow lines or zig zags.
The committee heard it would cost money to implement and operate a system and that entitlement checks and annual renewals would place an administrative burden on the authority.
Councillor Devine said the proposal was a "non starter", adding: "I don't think this is something that needs to be done at the moment.
"There was one that was done before in Forfar that didn't work.
"It couldn't be policed and people actually didn't want to pay for their permits so it fell apart at the seams."
Mr King also moved to scrap further considerations towards resident parking permits.
However, the SNP amendment to the report was defeated by nine votes to six, meaning the option remains on the table as part of a wider review of parking arrangements in Angus.
Conservative councillor Braden Davy welcomed its retention. He said: "I called for a residential parking system to be looked at and we need to continue to explore this option.
"There is no need for a one size fits all, and in some areas a residential system could be implemented, depending on where the ratio of households to available spaces is.
"It's premature to throw out plans altogether. A residential system works in a lot of areas where there are more households.
"Where there is local demand and local capacity, this is certainly something that should be looked at."