One of the quirkiest buildings in Angus has been put up for sale — and buyers better have a head for heights.
The 176-year-old Montrose Water Tower, which sits prominently on the town's North Esk Road, is up for grabs for £550,000 after being converted into a unique four-bedroom home almost forty years ago.
The octagonal building's original stonework features prominently throughout the four-storey home with high archways and exposed cast-iron beams giving the property a unique feel.
Built as the pride and joy of the town in 1841, the 65-foot Tudor-style property was designed to provide water to the surrounding area at a time when the town's population was in the hundreds rather than thousands.
In the latter half of the 20th century, the town's water board no longer needed it and the tower lay disused for many years.
The cast-iron plates in the ceiling of the first floor of the building previously held the enormous water tank — capable of holding 200 tonnes of water — and are still visible.
The rooftop — accessible either by climbing the four flights of stairs or hopping in a basic outdoor goods lift — provides 360 degree views of the town and the Basin.
The current owner, 74-year-old Norwegian Dag Reppe, has put it on the market after buying it around ten years ago.
The former deep-sea diver and engineer said: "It has the wow factor and there's nothing really like it in the world. I'm expecting that, like me, someone will come and see it and just fall in love with it.
"It's unique and it's quirky which suits me as I'm a bit of an oddball.
"I don't know if many people know that it has been converted from the old water tower but when people find out they are always interested to know what it's like living in it."
The home features two bedrooms on two separate mezzanine levels as well as a further two bedrooms on the upper floor, effectively splitting it into two apartments.
The property also has two bathrooms — one featuring an eye-catching antique pre-Victorian bath — and two living areas.
The sandstone walls are 3ft thick with the building's diameter around 30ft.
Mr Reppe added: "Whoever decides to buy it, I will leave everything here and just pack my bags and leave — just like the lady did when I bought it.
"My wife — who lives in our other place in Johnshaven — thinks it's time to off-load the tower. She doesn't like climbing all the stairs.
"It would be great for a family although it'd be impossible to find them when playing hide and seek!"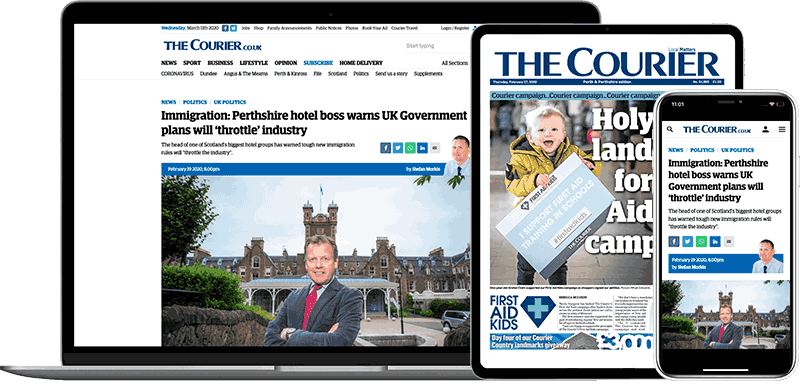 Help support quality local journalism … become a digital subscriber to The Courier
For as little as £5.99 a month you can access all of our content, including Premium articles.
Subscribe