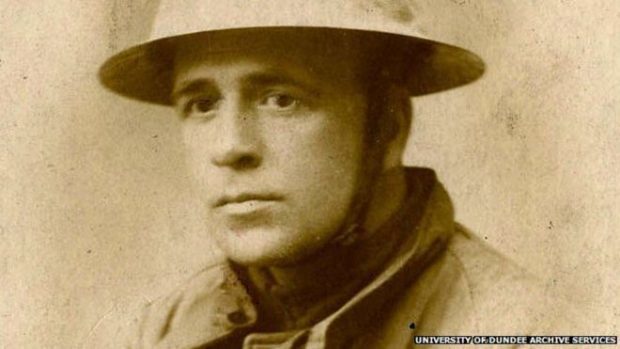 He was the journalist, artist and poet, who chronicled life in the trenches and as a prisoner of war during the First World War.
Joseph Lee is also remembered for his dispute with then-poet laureate Robert Bridges over the literary value of Robert Burns' work.
A talk by University of Dundee archivist Caroline Brown shed light on Dundee's war poet and artist, as well as other soldiers, ambulance men and those left behind.
Caroline brought their time in the trenches vividly to life during a talk at Arbroath's Signal Tower on Tuesday which gave an insight into the lives of the soldiers through letters, photographs and poems.
‌Born in Dundee in 1876, Joseph Lee left school aged 14 and began work in the office of a local solicitor.
He found this work to be dull and eventually took a job as a steamship's stoker, making a number of sketches during his voyages.
In 1904 he was employed as an artist in London drawing cartoons for the Tariff Reform League, subsequently becoming a newspaper artist.
In 1906 he returned to Dundee and started to produce edit, and write for several local periodicals including 'The City Echo' and 'The Piper O' Dundee'.
In 1909 he became a member of staff at John Leng & Co and regularly contributed to the People's Journal, a publication which he eventually edited.
In 1914 he joined the 4th Battalion of the Black Watch.
Two books of his war poems and sketches, 'Ballads of Battle' and 'Work-a-Day Warrior's were published while he was on the frontline.
In 1917 he became a second lieutenant in the 10th Battalion of the King's Royal Rifle Corps and later that year he was captured near Cambrai.
His experiences while a prisoner in camps at Karlsruhe and Beeskow are described in his book 'A Captive at Carlsruhe'.
In 1924 Lee married Miss Dorothy Barrie, a well-known viola player.
The couple went to Epsom and Lee became sub-editor on the 'News Chronicle'.
After his retirement in 1944 he returned to Dundee, where he died in 1949.
Lee's other works include poems, 'Tales O' Our Town', and a short play 'Fra Lippo Lippi'.
Caroline Brown is the University Archivist at the University of Dundee where she looks after the university's archive collections.
The primary source material that the university holds includes records relating to the university, hospitals and asylums, to the jute and wider textile industry as well as to organisations and individuals with connections to Tayside and elsewhere.
Caroline is involved in supporting teaching and research at the university and with many of Dundee's cultural projects including Great War Dundee.