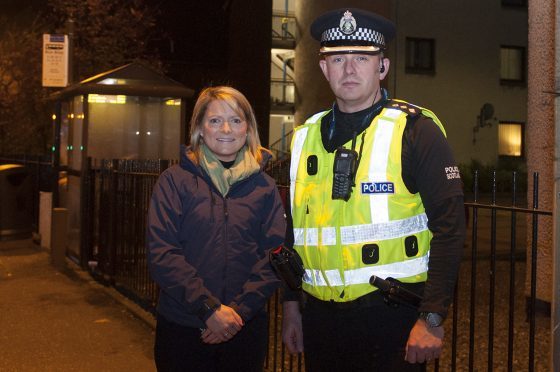 A local MP has urged parents in Forfar to check on their children's whereabouts amid a spate of recent disturbances caused by youths.
Over the past few weeks, police officers have been regularly called out to deal with gangs of 20 to 30 youths near the town's former Lochside Leisure Centre.
The force has received numerous reports of under-age drinking and vandalism by teenagers who have been congregating near the recently-closed centre.
Damage has been caused to the former outdoor playing courts, the fencing around the crazy golf course and motorists have had items thrown at cars.
The enclosed garden to the Ranger Visitor Centre has also suffered damage. A caravan and car within the Lochside Caravan Park were also vandalised when a piece of concrete was thrown over the perimeter fence.
While joining local officers on patrol at the weekend, Conservative Angus MP Kirstene Hair said the key to tackling anti-social behaviour begins at home.
She said: "I was disappointed to hear the centre has become a hotspot for problems, and so soon after closing.
"It's deteriorating and presents a danger to those trying to gain access. Every one of these children has a parent or guardian who is responsible for them.
"For safety's sake, I urge them to check on where their children are at night, before there is a terrible accident."
The newly-elected MP was in the process of becoming a Special Constable with Police Scotland prior to her selection for June's general election.
This meant that her application could not go forward but she was given the chance to go out 'on the beat' with officers in both Forfar and Arbroath on Friday night as part of her constituency work.
She said: "I am deeply passionate about public service and have always thought becoming a police officer is one of the most challenging but rewarding jobs you could think of.
"Many of the officers I've met are protecting the communities they live near or grew up in. They have a real sense of pride in doing their duties.
"Special Constables are often the unsung heroes on the street, maintaining a highly visible and effective complement for Tayside Division.
"I am determined that in my time as Angus' MP to get hands on experience of the challenges our community faces and being out on shift with local officers is great opportunity to see them in action."