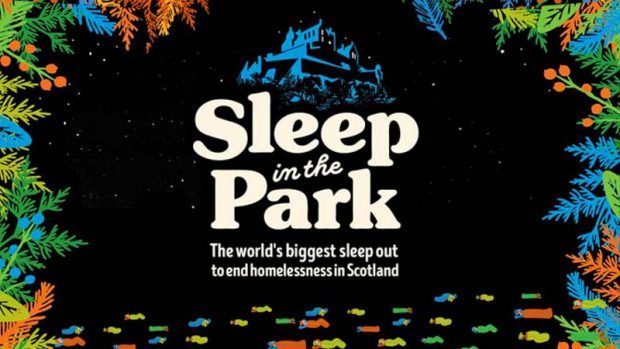 Top brass in Angus will take part in a Live Aid-style sleep-out with the mission to eradicate homelessness in Scotland.
Angus Council chief executive Margo Williamson agreed to bring a multi-agency team to the sleep-out which will take place in Edinburgh city centre.
Social Bite, Josh Littlejohn's sandwich bar social enterprise, has joined forces with Unique Events, the Edinburgh-based event producers, to stage what is expected to be Scotland's biggest ever charity event.
Sleep in the Park will see 9,000 people sleep rough in West Princes Street Gardens on December 9 with rare acoustic performances from Liam Gallagher, Deacon Blue, Amy Macdonald, Frightened Rabbit and guests who will be 'busking' for the audience.
Mrs Williamson said: "I shared a platform with Alan Mahon from Brewgooder at the High Noon Angus Business Lunch in September, who I found to be an inspirational young man.
"He spoke about his work as a young entrepreneur and the event he was involved in with Social Bite – Sleep in the Park, while my presentation at the lunch was about increasing opportunities for Scotland's young people.
"Life chances for young people are variable and often dependent on a huge range of social factors – there is an inequality.
"Supporting young people into work, or into their own tenancy to help them have control of their life, is important to me.
"Often, it is the early support that makes all the difference to a person's life. At the lunch I gave Alan a commitment that I would bring a multi-agency team to the sleep out.
"I knew my colleagues would want to support such an event – not to pretend to understand what it is like to sleep outside, how could you when you only do it for one night?
"But rather to raise awareness of how Scotland can work together to ensure everyone has somewhere safe and warm to live."
Mrs Williamson has assembled the 'Angus Brave 6' which will also include Scottish Fire and Rescue Group Manager Roy Dunsire; Chief Inspector David McIntosh, Angus Area Commander, Police Scotland; Mark Armstrong, Strategic Director, Angus Council; Sharon Faulkner, Head of Service, Angus Council; and Ian Lorimer, Head of Service, Angus Council.
Comedian Rob Brydon will be hosting the event, Monthy Python legend John Cleese will be performing a bedtime story and attendees will hear from Sir Bob Geldof on his support for the cause.
Mrs Williamson said: "We'd like to raise £2,000.
"Maybe that is a little ambitious, but we've had a lot of encouragement and people are keen to contribute by donating to the cause, including families, friends and colleagues at our respective workplaces.
"A wee bit of competition with Dundee City Council always goes down a storm too."
She said key achievements delivered in Angus in the last five years, include establishing a Young Persons Housing Options Team that is now mainstreamed into its Housing Options Service.
She said: "Our housing options work has resulted in a 39% reduction of the number of homeless applications over that five year period. These are great achievements, but we want to do more."
People can donate at http://uk.virginmoneygiving.com/team/angus-brave-6