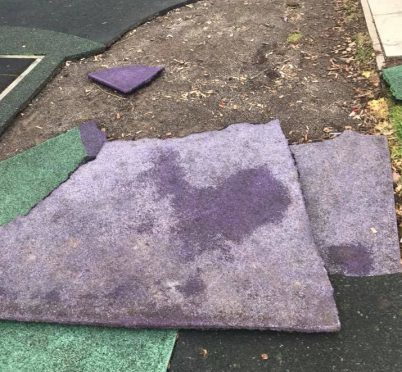 Angus Council has blasted "pointless" and "costly" vandalism to a children's playpark in Arbroath.
The town's Cliffburn playpark has been repeatedly targeted by vandals who have deliberately torn up safety surfacing and daubed graffiti over newly painted fencing.
Large parts of the rubber matting have been removed from the ground underneath play equipment and tossed around, leaving locals furious.
The matting will be replaced next month as part of wider improvements to the park but the council has encouraged the public to be vigilant by reporting any future incidents as soon as possible.
A spokesman said: "We are aware of the vandalism to the safety surfacing at Cliffburn playpark, which has worsened previous deliberate damage.
"Recently painted fencing also suffered graffiti, but this was swiftly removed.
"We will be applying a new safety surface layer across the entire play area in November as part of a number of improvements to the park.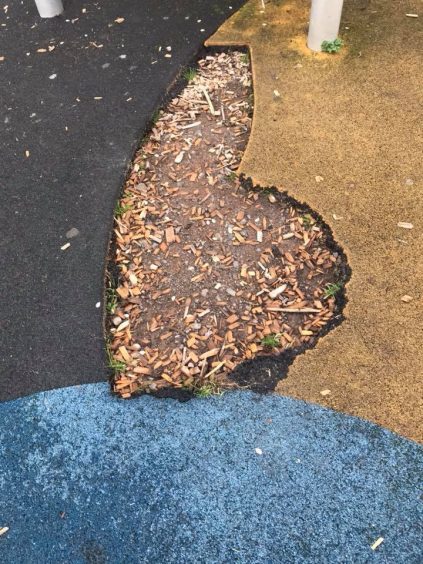 "All of our parks are there for children and their families to enjoy. Repeated vandalism ruins their fun and can sometimes put our play equipment of action while repairs are made, often at considerable cost to the public purse.
"While we hope that vandals would appreciate the impact of their pointless actions and reconsider, we ask the public not to tolerate this type of behaviour and report any incidents they witness to the police."
Locals expressed bewilderment and disgust at the vandalism. One parent said her two-year-old had asked her to fix the surfacing and even tried to wipe off the graffiti with a baby wipe.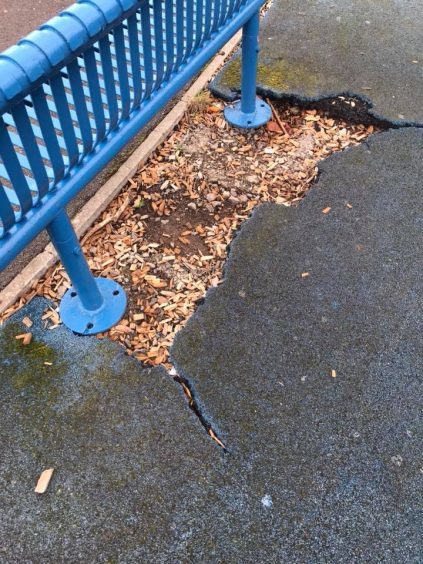 Arbroath SNP councillor Brenda Durno, who reported the damage to the council, also voiced her frustration.
She said: "I was saddened to see the state of the park when I was there with my grandsons last weekend.
"I would say to the persons who vandalised the area: it is the other children who play there that you are affecting and not the establishment.
"Due to the lack of council funds, the council cannot keep replacing this surface as it is very expensive and it may be a younger family member of theirs who will no longer have a nice park to play in."