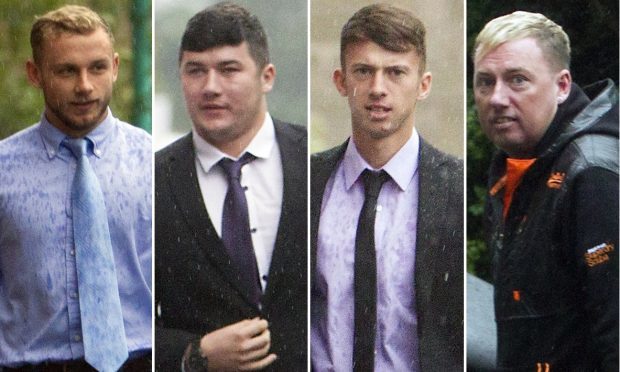 Shamed Royal Marines who took part in a depraved initiation ceremony in an Angus nightclub have avoided being jailed.
The three men from Arbroath's 45 Commando – all now thrown out of the service in disgrace – were joined by a member of the public in a series of lewd acts at the town's De Vito's nightclub.
A sheriff who condemned the group for their "puerile and repugnant" behaviour said he hoped the widespread publicity surrounding the case would stop such "idiocy" in the future after the court heard claims the disgusting conduct was part of the culture of the elite service.
The vile acts, captured on CCTV, included accused Luke Bowen urinating in the mouths of fellow Marines Jordan Coia and Ben James, before drinking his own urine.
Civilian Craig Lynch, who had got involved with the group, then performed a sex act on another person.
All of the accused avoided being placed on the sex offenders register after the Crown accepted there was "no significant sexual element" to the crime.
James, 23, of Thirsk; Bowen, 25, of Chichester; and Coia, 22, previously c/o RM Condor, along with 43-year-old Lynch, from Aberdeen previously admitted a charge of public indecency at the Angus venue in June.
Three other Royal Marines initially charged in connection with the matter previously had not guilty pleas accepted.
Solicitors for the three former Commandos said they were ashamed and embarrassed by their conduct, which in each case had ended hopes of a lifelong career in the military.
Coia's agent Nick Whelan said his client's "reckless stupidity" had resulted from what he described as a "culture of expectation" to participate in such behaviour.
For James, solicitor Nick Markowski said: "The marines have been based at Arbroath for a significant period and are held in high esteem.
"The flip side of that is that when they are out socialising as a group there can be boorish behaviour. But the world has moved on.
"He has lost his career for a couple of minutes of madness, fuelled by alcohol and a misguided sense of loyalty and frivolity."
Sheriff Gregor Murray branded the events in the smoking area of the club as "outrageous, provocative conduct."
He said it was bound to offend anyone who witnessed it and could have led to further trouble if that had happened.
"The only positive possible outcome is that the media coverage may prevent such idiocy in the future.
"I make it clear that a custodial sentence would be merited, but for all of you there is an alternative to imprisonment."
All four accused received Community Payback Orders, with Bowen was ordered to carry out the maximum of 300 hours unpaid work.
Lynch was ordered to complete 260 hours, James 240 and Coia 225 hours as part of the one-year CPOs.
A Royal Navy spokesperson said: "The Naval Service will not tolerate any behaviour which is unbecoming of a Royal Marine and will take action where appropriate.
"As a result of this incident, three individuals have already been discharged from the Naval Service in addition to the sentence."