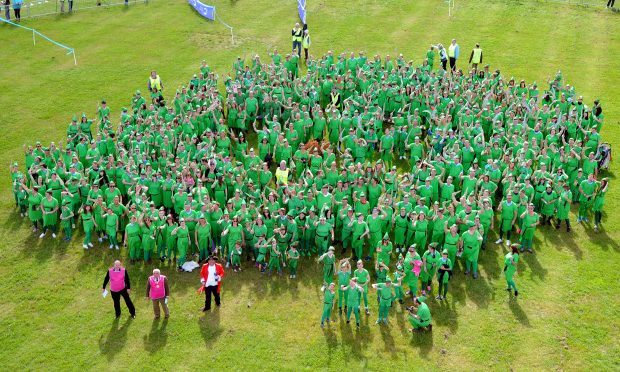 Angus communities have delivered a sensational cancer charity boost of more than £150,000 after Arbroath and Kirriemuir revealed their respective Relay for Life event totals.
Kirrie's final tally for an event which also saw the town "bring home" a world record for the largest ever gathering of Peter Pans was revealed as £88,918, while the Arbroath total hit an impressive £70,751.
Organisers have been praised by Cancer Research UK for their continued support, and the hundreds of participants – including many cancer survivors – were given generous thanks by both teams.
The highlight of the Kirrie Show field tenth anniversary Relay in mid-August was the spectacle of 534 Peter Pans packed into the centre arena as they snatched a Guinness World Record from the US and back to the birthplace of the fairytale figure's creator, J M Barrie.
This year, Kirriemuir put on the largest Relay for Life in Scotland and the third largest in the UK – both in terms of teams and team members signed up.
The feat was described as a "massive achievement" by retiring Relay chairman Keith Hopkins.
Kirrie's Relay is held every two years but Arbroath's cricket ground fundraiser is an annual event and their 2017 total has taken the town to within touching distance of the £1 million barrier.
Arbroath's 80s-themed Relay ran in September. Event chairman Ian Angus was thrilled by the turnout, which included visitors from as far afield as Cornwall who were left "blown away" by the 24-hour spectacle.
Each Relay combines a carnival atmosphere with poignant proceedings, including the opening survivors' lap and a night-time candle of hope ceremony.
Since Relay For Life began in 1985, more than four million participants in 29 countries have raised in excess of £4.9 billion.