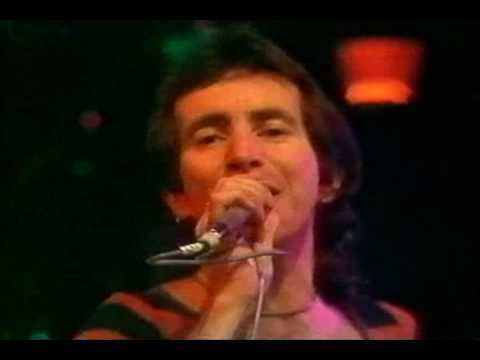 A new book has claimed Bon Scott may have already been dead when he was left lying in a car on a London street in 1980.
Jesse Fink's book 'Bon: The Last Highway: The Untold Story Of Bon Scott and AC/DC's Back in Black' claims to reveal the truth behind the Kirriemuir rocker's death, which Fink describes as "the Da Vinci Code of rock".
Scott is said to have choked on his own vomit after being left to sleep in a Renault 5 owned by former friend and neighbour Alistair Kinnear, following a night of heavy drinking in a London nightclub.
The following morning, Kinnear claimed to have found Scott lifeless, and alerted the authorities. The coroner concluded the vocalist had died due to acute alcoholic poisoning.
But Fink's book puts forward two theories based on gathered evidence for how the AC/DC legend perished.
The first is "almost completely new" and the second is already well known by AC/DC fans but with a heroin overdose substituted for alcohol poisoning.
Fink's first theory is that Scott may have already been dead when he was left in Alistair Kinnear's car.
He said Scott went to the Lonesome No More gig at The Music Machine, "where heroin and free booze would be in abundance". Kinnear's friends Peter Perrett and Zena Kakoulli were there.
The book states: "So Bon went to Camden, drank his usual amount of whisky but also snorted heroin backstage in the company of unknown persons at the gig. Alistair was among them.
"Early on the morning of the 19th, Bon, Zena and Alistair left the gig in Alistair's car to either party on at another location, get more heroin from a dealer or go to Chapman's in Fulham (as Bon had promised), but not long into the journey Bon began nodding off.
"He fell unconscious. He vomited. Alistair panicked and made his phone calls to Silver (Scott's girlfriend).
"Not knowing Bon had snorted heroin, Silver reasonably presumed he'd passed out from drinking.
"He'd done it many times before. Alistair (who wasn't letting on at this stage what he'd witnessed backstage at The Music Machine – Bon snorting heroin) relaxed when told this. Maybe it was just alcoholic intoxication after all.
"But then Bon stopped breathing altogether. Alistair attempted to resuscitate him but failed, in the process leaving marks on Bon's neck.
"AC/DC's lead singer was dead and dawn hadn't even broken in London."
Fink said Kinnear was cognisant that he – and potentially one of his higher profile friends – could be in serious trouble if pathology tests showed that Scott had snorted heroin supplied by either him or one of his friends at The Music Machine.
The book continued: "The priority for Alistair was ensuring the heroin was undetectable. So Bon's body was left, not in the front passenger seat, but under a blanket in the back seat of the car or even put in the boot with the back seat folded down.
"There is another possibility, worth considering, that Bon's body was left in another location altogether, such as Alistair's apartment."
Fink also described both the police investigation and inquest as "grossly inadequate, demonstrably deficient and potentially incompetent".
Scott was born at the Fyfe Jamieson maternity hospital in Forfar in 1946 and his family lived in Kirriemuir, where father Charles Scott worked in the family bakery in Bank Street.
In 1952, when Scott was six years old the family emigrated to Australia.
'Bon: The Last Highway: The Untold Story of Bon Scott and AC/DC's Back In Black is out from Black & White Publishing now, RRP £17.99'.