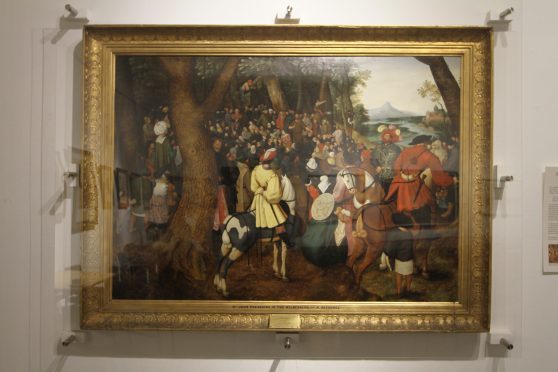 Arbroath councillors have set aside their political rivalries to unite in opposition to the sale of the town's valuable Pieter Brueghel the Younger paintings.
Former Arbroath East and Lunan councillors Donald Morrison and Jim Millar are more accustomed to trading blows across the council chambers on behalf of the SNP and Conservatives but the pair have joined forces to dismiss any talk of selling off the Old Master paintings hanging proudly in Arbroath Library.
It comes after Monifieth and Sidlaws councillor Ben Lawrie suggested members should debate the sale of the works, estimated to be worth more than £2 million each, to ease the burden on cash-strapped Angus Council.
Art history graduate Mr Millar said the idea "does not bear scrutiny".
He added: "It is incredibly short-sighted and naive to even suggest selling these magnificent paintings in a bid to plug a funding gap.
"These works were gifted to the people of Arbroath and they must stay in the town.
"What kind of message does it send out, as the V&A nears completion in Dundee, that next door in Angus, there is a proposal to hold a fire sale of our cultural assets in order to temporarily keep some skips open.
"This is a simplistic, short term solution which would fail to address a long term problem, and frankly does not bear scrutiny."
Mr Morrison, who lost his seat at the council elections earlier this year, urged the council to do more to promote the works, rather than "selling off the family silver in a panic".
He said: "To suggest selling off of Arbroath's prized treasures for what would be a temporary gain, shows the naivety from someone just in the door and who fails to understand the importance of cultural assets.
"It is not for the councillor to dictate the sale of assets left to the people of Arbroath and these paintings are akin to a Common Good asset of the burgh.
"I hope every Arbroath councillor will publicly distance themselves from Councillor Lawrie's proposal.
"With Dundee's V&A nearing completion, Angus Council should be actively working to bring visitors to the county, boosting the local economy, not selling off the family silver in a panic due to the mismanagement of using up the council's contingency fund for purely political gain.
"These paintings belong to Arbroath and must stay in the town."
Former local independent member Bob Spink has also entered the debate, criticising the "cultural termites" in favour of the sale.
Mr Spink said: "Those who seek to steal the Brueghel paintings from Arbroath should know these iconic paintings were gifted by generous benefactors to the people of Arbroath many years ago and as such should be valued as a cultural asset of the burgh not for sale under any circumstances.
"Do we really wish to sell our precious heritage, thereby diluting the town's character and identity yet again?
"Like cultural termites, councillors continue to gnaw away at the perceived privileges of Arbroath with every opportunity, forgetting that a quarter of the population lives in  Arbroath with the per-capita spend historically the lowest in Angus."