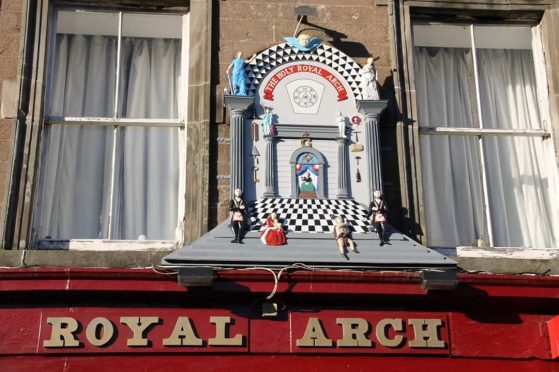 An ancient wooden plaque celebrating three centuries of friendship between Montrose and France has been restored to its former glory.
The Holy Royal Arch sign has been a landmark in the Angus town since the 18th Century and is listed as a monument by Historic Environment Scotland.
The carved curiosity – described of being of national significance – was erected above what is now the Royal Arch Bar in Montrose High Street by the captains of French sailing ships.
The Gallic mariners were Freemasons and used the building – then a coffee house – for meetings.
When the premises became a public house, the owners kept the sign and called the pub the Royal Arch.
The plaque was taken down for assessment in 2016 and found to be in a very poor condition.
There was also some doubt about who it belonged to, but local craftsman, James Baines, stepped in and took responsibility for the repairs.
Montrose Society President Raymond Sutton said he had done a wonderful job and the group was thrilled to see it back where it belongs.
"The society tried to find out who owned it," he explained
"Angus Council declined ownership, along with the adjoining neighbours, then out of the blue the owner of the Royal Arch claimed it.
"It is a wonderful piece of craftmanship which can be seen by locals and visitors alike."
The plaque has been refitted with assistance from Montrose Society, the pub owner and other locals.
Nick Johnson, of the Millennial Freemason blog, said the people of Montrose should be applauded at a time when many of the old relics are in danger of disappearing.
"I'm still saddened that we continue to lose them but I am encouraged that the public sees the value in protecting them," he said.
"Perhaps we need to work more closely with the public in preserving our shared history."