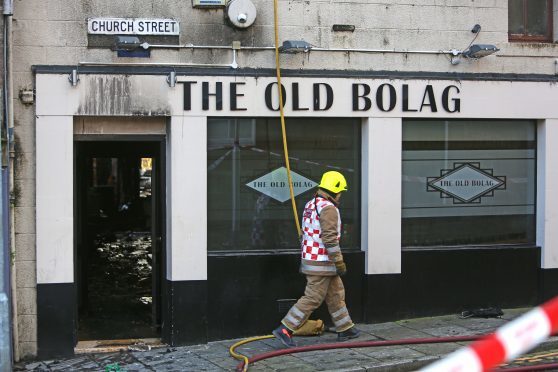 Investigations are continuing into the origin of a fire which destroyed the interior of a historic Brechin pub.
The Old Bolag in the town centre was devastated in the blaze, which took hold at around 1.30am on Sunday.
A security fence was still in place outside the pub and an adjacent property yon Monday with some of the windows broken in the midst of the battle to contain the flames.
The Scottish Fire and Rescue Service and Police Scotland are carrying out a joint investigation.
Owner Kevin McDonald said he did not wish to comment.
Caroline Stewart, who lives next door to the pub and had to be evacuated in the middle of the night, said she is still in shock.
She said: "Though it was scary at the time, I have been lucky.
"Only my porch door window has been damaged after the fire service had to break in at the time. I'm so sad for the owner. He's such a good guy and this will be devastating for him.
"It's also a shame for the man who lives next door because it looks like his flat has been damaged too. I'm happy nobody has been hurt though of course — that is the main thing."
It is believed staff and customers had already left the popular pub by the time the fire took hold and firefighters battled for almost five hours to extinguish it.
Caroline praised the emergency services for what she described as their "fantastic" response.
She added: "The police were banging at my door when I was asleep on Saturday night and got me and my dogs out so quick.
"I stayed at a friend's house until I was allowed back in at about 3pm on Sunday. The fire service have told me it is safe and my broken window is a small price to pay.
"They are going to check over the house again in the next few days but I think everything is OK.
"I'm going to send a card to all the crews involved because they have just been so amazing."
An Angus Council spokesperson said officers have been in attendance to ensure appropriate steps are taken to ensure the safety of the building.
Police have asked anyone with information which may help with their investigation to call 101 or speak with any police officer.