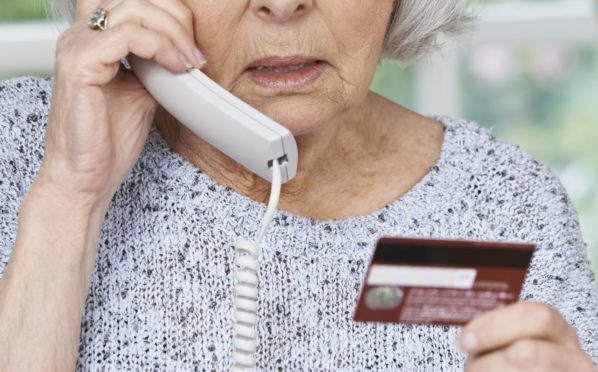 Adult protection referrals in Angus rose a staggering 82% last year during what has been described as an "unprecedented" period of change and service demand by the area's top social worker.
The 425 adult referrals was one of the headline figures in Chief Social Work Officer Kathryn Lindsay's annual report for 2016/17, with referrals from police, families, members of the public and the council's housing department all showing "significant" increases.
To tackle the deluge of incoming reports, the number of staff in the council's first contact team doubled during the year, and the top officer said changes to recording practice also had an impact on the figures.
Financial harm, including scams, remains the most commonly reported matter relating to vulnerable adults, but the past 12 months also saw a rise in the number of reports of physical harm.
In 96% of referrals an inquiry took place, with around one in ten leading to a full adult protection investigation, and 7% to an adult protection case conference.
Ms Lindsay told Angus councillors managing increasing numbers of referrals to both adults and children's services is one of the key challenges for the year ahead.
"The level and pace of change, the cumulative impact of the financial context and growing demand for services is unprecedented," she said.
"Although the current climate is challenging, it continues to provide an opportunity for us to be innovative and to engage with communities to promote social welfare and provide effective care, protection and support to our most vulnerable citizens."
The potential risk of issues such as financial harm was highlighted in a recent Angus event which revealed scammers are hitting local residents and businesses to the tune of £15 million a year.
One elderly local woman was conned into handing over more than £130,000 to crooks in a telephone scam, and in another case a Montrose man lost his life savings when he put over £100,000 into what he thought was a legitimate business venture.
Arbroath independent councillor Lois Speed said: "When we consider this report and hear just what is being said about the most vulnerable in society we need to reflect on that as we move forward as a council, especially with some of the tough decisions we are going to have to make."
Kirriemuir SNP member Julie Bell said: "This was a report that was easy to comprehend, but hard to read. There are a lot of worrying statistics in there and the increase in referrals really should focus our attention."
The annual report also focused on criminal justice, revealing of the 394 Community Payback Orders imposed last year, 82% were successfully completed – an increase of 6% from the previous period.
The CPOs led to 17,262 hours of unpaid community work being carried out, compared to the 2015/16 figure of 16,219.
Councillors praised the positive intervention of the Angus-specific Glenisla project for female offenders, which saw 92% of 51 CPOs fully completed.
Councillor Bell added: "That is a statistic most community justice services in Scotland would die for, and it is testament to the work that is done around rehabilitation in Angus."