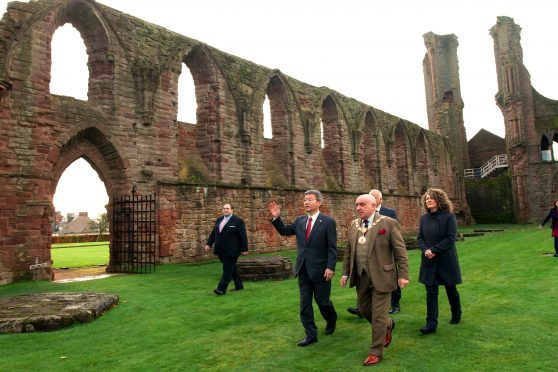 The Japanese consul for Scotland was given an exclusive tour of Angus in a bid to strengthen ties between the county and Far East country.
Daisuke Matsunaga, consul general of Japan in Edinburgh, toured the council chambers in Forfar, Arbikie Highland Estate Distillery near Inverkeillor, Arbroath Abbey and Glamis Castle.
He was given a guided tour of the historic Abbey by Andrew Kennedy – in full Benedict Monk attire.
The doors to the Abbey were opened especially for the consul, who was greeted in Japanese by Mr Kennedy before being shown around.
The tour included a stop at the visitor centre with monument manager Pat Arthur.
The consul was shown around Angus by the Lord Provost Ronnie Proctor, Arbroath East and Lunan councillor Lois Speed, Historic Scotland district visitor operations manager Fiona Kantzidis and Jim Millar, co-founder and director of Fusion Whisky Ltd who has worked on forging ties with Japan for several years.
Mr Matsunaga said: "I learned that Angus has a special and really important place in the history of Scotland.
"For example, I did not know that the Declaration of Independence might have been modelled on the Declaration of Arbroath.
"It was interesting to see how special this town is and how important it is to the history of Scotland, Britain and Europe."
Jim Millar said: "There are already a lot of goods traded between Angus and Japan, which is the third biggest economy in the world. We hope this will make this most of that. The whisky industry is huge in Japan so there are already strong ties in place.
"We are showing him the very best of Angus."
Lord Provost Ronnie Proctor feels the trip was a valuable opportunity to show the Japanese consul what Angus has to offer.
"We are trying to make the links a lot tighter," he said. "There is a lot of cultural links between the countries. There are close links between Angus and Japan.
"We are trying to keep that relationship going. The consul is an intelligent man and already knew a fair bit about the history."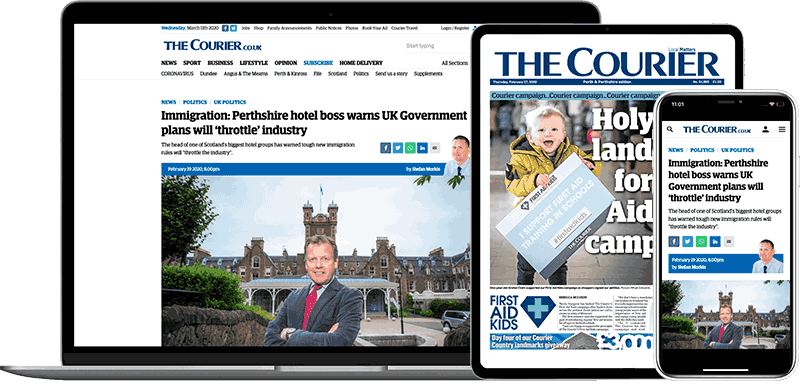 Help support quality local journalism … become a digital subscriber to The Courier
For as little as £5.99 a month you can access all of our content, including Premium articles.
Subscribe