Angus Council has been urged to change its parking enforcement policy to support local residents fighting the war on litter.
Community enforcement officers have been told they cannot issue any littering or dog fouling notices while carrying out parking duties.
The ruling has been slammed as "bizarre" and a waste of public resources by the Angus Litter Summit group.
Wardens were told the move was necessary to comply with the Road Traffic Regulations Act 1984 when they took on responsibility for issuing £60 parking fines earlier this year.
However, the Angus Litter Summit group has challenged the council's interpretation of the legislation.
Spokeswoman Jean Stewart said: "The public in Angus were dismayed to find that when community enforcement officers are wearing their uniform they are unable to issue any littering or dog fouling notices, even if they observe people littering.
"We approached the council to discuss and were told that it was not possible to consolidate duties as they had to comply with legislation arising out of the Road Traffic Regulation Act 1984.
"This appeared to be a bizarre situation and a terrible waste of public resources.
"We subsequently investigated further and found that this is not an accurate interpretation of the legislation."
She said the group had been told by the Scottish Government that the duties of parking enforcement wardens can be consolidated to include both parking and littering.
"We are now calling on Angus Council to improve outcomes for both littering and parking by consolidating the activities of community enforcement officers into one multi-functional role," she added.
"This would make best use of resources and support communities in their efforts to reduce littering."
Glasgow City Council recently asked its  legal section to review the legislation and was told that "as long as the officer is appropriately labelled then they can carry out a range of duties".
A Transport Scotland spokesperson said: "It is not essential that individuals carrying out parking attendant's duties are called parking attendants at all times.
"A local authority has the ability to merge parking attendant and litter picking roles.
"However, an individual who is undertaking duties as a parking attendant should be identifiable through the uniforms approved by Scottish Ministers when carrying out parking enforcement."
Angus Council said would now be "seeking clarity" on the issue.
A spokesperson said: "Prior to the decriminalisation of parking enforcement (DPE) coming into force in May, our officers had authority for littering and dog fouling enforcement.
"Advice given to the council when setting up DPE was that our wardens must be identifiable when carrying out parking duties and they can only issue parking tickets when carrying out parking duties. We are now seeking clarity on this with Transport Scotland."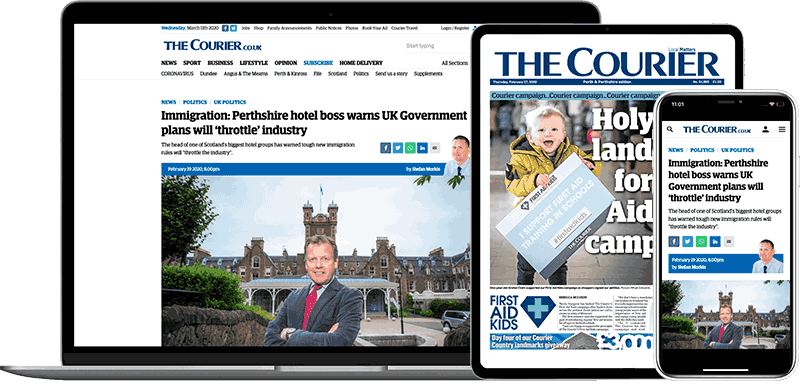 Help support quality local journalism … become a digital subscriber to The Courier
For as little as £5.99 a month you can access all of our content, including Premium articles.
Subscribe