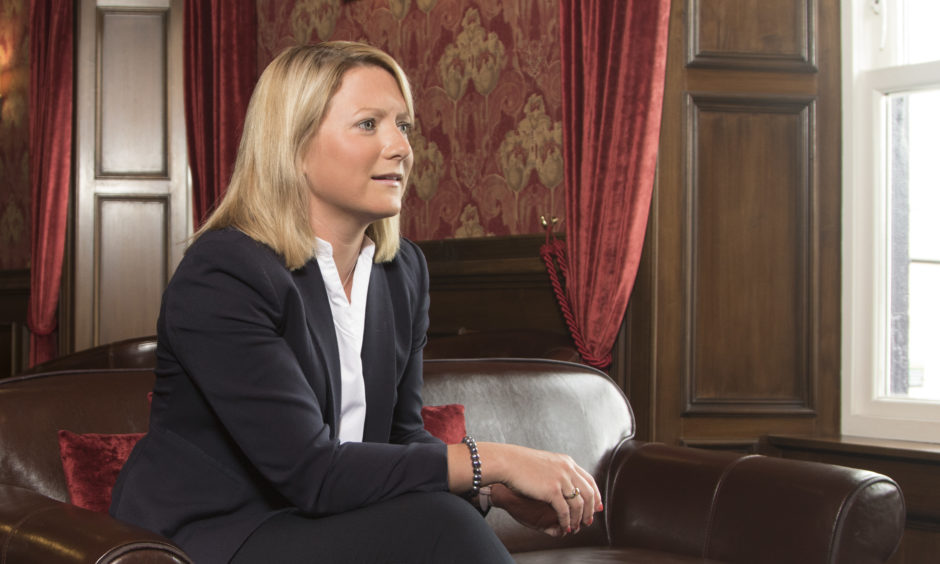 The Angus MP is in the firing line for not turning up to a Westminster debate on the uncertain future of the Royal Marines.
Reports have warned the commando force could lose 1,000 elite soldiers across the UK, as well as two amphibious landing platform dock ships HMS Bulwark and HMS Albion.
RM Condor near Arbroath is home to the 45 Commando Group, which has had the threat of closure hanging over it since 2004.
Martin Docherty-Hughes, the SNP MP who is on the defence select committee, noted the absence of Kirstene Hair, the Scottish Conservative who represents Angus at Westminster during Tuesday's debate.
"As ever it will be up to these (SNP) benches to fight Scotland's corner in this place," he said.
Mr Docherty-Hughes said it is "astonishing" that the government of an island state is "seriously contemplating letting go of its ability make opposed amphibious landings".
Question marks have been hanging over RM Condor's future for more than a decade.
Last year's defence estate review the government revealed a plan to sell-off its airfield as part of a wider drive to save cash.
The UK Government's approach to Condor "acts perfectly as a case study into the dangers of salami slicing our Armed Forces and people in Arbroath will not be reassured that closing the airfield is the last we will hear of the issue", said Mr Docherty-Hughes.
"A community which is already reeling from the effects of Brexit on its soft fruit industry does not need to be reading headlines about 1,000 Royal Marines being cut," he said.
A Scottish Conservative party spokesman said Ms Hair had "championed" RM Condor "at every opportunity" but did not provide details of her whereabouts during the debate.
"She has written to the Ministry for Defence, raised the issue with the Secretary of State and directly questioned the UK Government in the chamber on scheduling a debate into the wider defence review," he added.
"Kirstene has spoken repeatedly about the impact that RM Condor has on the local economy in Angus and of her personal commitment to stand up for those who serve in our armed forces locally, and indeed across the whole of the UK, just as she promised to her constituents during the election campaign."
Defence minister Harriett Baldwin said no decisions had been taken on the Royal Marines and "any discussion of the options is pure speculation".
She added: "We will continue to have the appropriate number of front line Royal Marines to achieve all taskings and will ensure that the Royal Marines are properly trained and equipped to perform a wide range of crucial tasks that we ask them to undertake."
Graeme Dey, the SNP MSP for Angus South, said:  "This is very puzzling indeed. Kirstene Hair made battling for the future of RM Condor a central focus of her election campaign earlier this year.
"But yesterday she was posted missing in a key Westminster debate on the MoD's planned cuts to the Royal Marines. And she couldn't even come up with a good excuse for why she was AWOL."