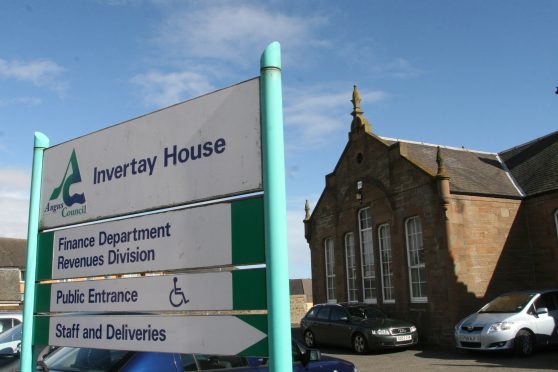 A fight to bring a £2 million community centre for Monifieth is entering a make or break period.
Monifieth Community Resource Group (MCRG) chair Jean Lee said it was a "massive thing for Monifieth" and the new few weeks and months will be "nerve wracking".
The Monifieth Community Resource Group wants to create a multi-purpose centre in the former Invertay House.
Campaigners hope to hold sports and community events in the council-owned premises, which were most recently used to process benefit enquiries. The venue could even be used to host concerts.
The resource group is seeking to have the building transferred into community ownership and Angus Council is still considering the request.
An application has also been submitted to the Big Lottery to help cover the costs of refurbishing the building and creating a community hub.
Jean said: "The next few weeks and months will be nerve wracking for the members of Monifieth Community Resource Group as they wait for two major decisions that will affect the community of Monifieth for years to come.
"In late September the group submitted an application to Angus Council to have the old Invertay House transferred into community ownership under the community asset transfer procedure and they may have to wait another four months for a decision.
"Angus Council has a maximum of six months to research our case and come to a decision so the latest we will know our fate is mid-March 2018. During that period we will have several meetings with them to make sure that nothing is overlooked.
"Our first meeting was very positive and productive so fingers crossed that everything goes smoothly and we can have the right outcome sooner rather than later."
Jean said the maximum amount that can be sought from the Big Lottery is £1 million and the group is "confident that their application is a strong one".
A public meeting will be held on November 28 in the Panmure Hotel from 6pm.
A recent local online survey far exceeded participation expectations which has shown the group there is "a real appetite for this facility".
Jean added: "People are desperate to see this happen.
"Our architect and business consultant will be there to explain our CAT and Big Lottery applications.
"These things take ages and there are so many hoops to go through, often more than once, but we've all put in a mountain of work and it'll be great to share our vision with the people that it is all for.
"The only downside is that we will all also be sharing the nerve wracking wait."