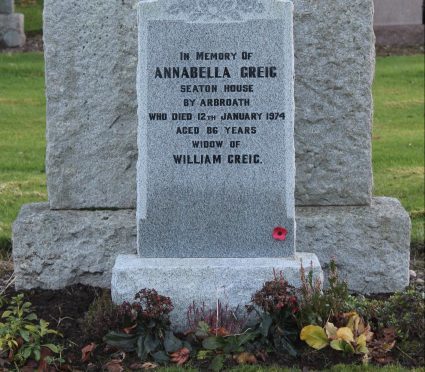 She was usually seen propelling herself in a car at 10-15 miles per hour up the middle of the street, where there was less chance of striking pedestrians – sometimes with a goat in the back seat.
Anabella Greig might not have been "much of a driver" but she loved people and animals and gave generously to the community of Arbroath during her lifetime which is something that has never been forgotten.
Affectionately known in the town as "Granny Greig", Mrs Greig's grave has again been given a spruce-up ahead of Christmas following a community campaign to clean and restore her neglected gravestone a few years ago.
Arbroath man George Park said: "A couple of years ago, a fellow Red Lichtie, Dave Hodson, an I, found ourselves doing some parallel research on Annabella Greig.
"Dave put a photograph of her headstone on the Red Lichtie Facebook page.
"A comment was made that it was a shame the grave was so neglected.  Ralph Coutts picked up on the thread, enlisted the help of Kenny Robertson, a monumental sculptor, and they restored the stone.
"A group of Red Lichties then met at the grave and did some planting.
"Since then, if I happen to be in the area, I just give it a wee freshen up."
Mrs Greig, who donated the Victoria Park Pavilion to Arbroath Town Council in 1928, was known also for her short stories and poetry, died in 1974 aged 86.
Mr Park said: "On January 3 1921, around four years after the family had move to Springfield, Annabella, who was now aged 32, married 56-year-old William Greig residing at Seaton House, the owner of a rubber plantation, and the son of joiner William Greig and Ann Martin, residing at St James Road, Forfar.
"Annabellas parents moved in with her and William at Seaton House, and in 1929 William sold Springfield to Arbroath Town Council.
"The following year Annabella presented to Arbroath Town Council, the Victoria Park Pavillion which she had financed."
Her husband died in 1945 and she lived alone at Seaton House and Estate which was approximately 64 acres.
"Although a bonny lass when young, she was robbed of her beauty when bitten on the nose by an insect, when on a visit to one of the plantations with William," said Mr Park.
"The bite caused swelling and discolouration which never receded.
"Arbroath Infirmary, in the days pre-NHS, benefitted from Annabella's generousity.
"Annabella was not much of a driver, usually propelling herself at 10-15 miles per hour up the middle of the street, where there was less chance of striking pedestrians.
"In 1925 she drove along Nolt Loan Road, with a friend onboard, failing to stop at the junction with Addison Place, whereupon she collided with a motor cycle ridden by William Fyfe.
"He was severely injured.
In 1953 she failed to observe the stop signal at Kirk Square for which she was fined one pound and in 1954 had her license endorsed, accompanied by a £5 fine for careless driving.
"She had exited Seaton Estate failing to stop, and collided with a car driven by William Schubert, a pig farmer, of Auchmithie."
An extract from Arbroath by Annabella Greig:
Arbroath is a well known town
With abbey, cliffs and sands
It has its parks and
commons too
Where you can hear the bands
Its bathing pool is famous now
Folk come from far away
And, at the Arbroath 
paddling pools
Bairns spend the summer day
'Tis fine to see 'the Old Round O'
That towers above the town
The abbey speaks of ancient days
The pageant notes it down
When king and courtiers, monks and all
Are seen to make their way
To commemorate a famous date
Independence Day