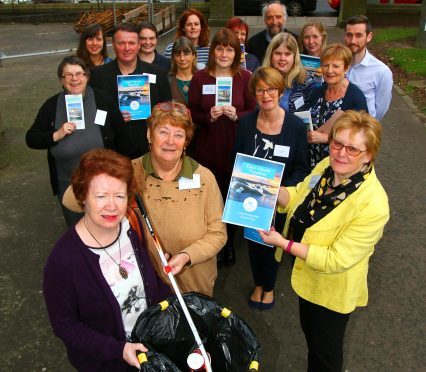 A rallying call has been issued to residents across Angus before what is being described as "D-day" by anti-litter groups.
An Adopt-a-Street initiative encourages residents to take extra care of their street or an area they particularly value by volunteering to pick up the litter left by others.
People will be able to sign up to the Adopt-a-Street scheme from Friday and Angus Council will provide a litter picker and hoop to all volunteers.
The initiative was launched at the first community-led litter summit in Scotland which took place at Dundee and Angus College in Arbroath earlier this month.
Volunteering will not reduce the amount of cleaning and recycling already being undertaken by Angus Council.
Wendy Murray from the Angus Litter Summit group said: "We are calling on individuals and families all over Angus to register with the scheme and help care for their street and other places which are important to them.
"Many people already take responsibility for cleaning areas and registering with the scheme will help recognise and quantify the contribution members of the public are making.
"We are fortunate to live in a stunning part of the country but like many areas in Scotland it is blighted by litter of all types.
"We don't want £53m of public money to be spent on cleaning up Scotland every year.
"We want the public to take responsibility for reducing litter and helping to keep the areas they live in clean.
"We know that people are much less likely to drop litter if they know that places are being cared for by local residents.
"The council will continue with their cleaning and litter picking duties but the work of residents will enhance this work which will have a direct impact on the local economy, house prices and health and well-being."
Wendy said the group would urge as many residents as possible to register online or call into their local Access office to collect a free litter picker and hoop.
When the scheme was introduced in Leith more than 80 residents adopted 60 streets and the Angus litter group are aiming to achieve more than 100 streets in the first six months of the scheme. More information about the Adopt-A-Street scheme can be found on Angus Council's website.