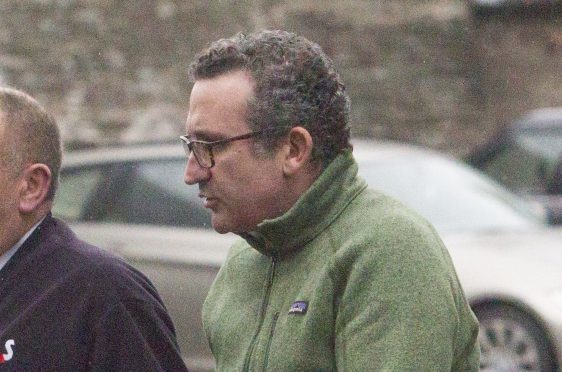 An Angus man who killed a taxi driver in a high-speed crash eight years ago is facing a return to jail after admitting driving while disqualified and failing to provide a breath sample.
Halim Cholmeley, 43, of Broomhill, Glen Prosen, appeared from custody before Sheriff Jillian Martin-Brown at Forfar Sheriff Court on Friday.
He admitted driving while disqualified at Medecinewell, Montrose, the access road from Wester Lednathie Farm to Glenuig and various roads in between on March 5.
He further admitted failing to submit a sample of his breath when requested.
Cholmeley pleaded guilty to the two charges during a brief hearing and sentence was deferred.
He was remanded in custody and will appear at Forfar Sheriff Court in connection with the case again next week.
Cholmeley was previously jailed for six years in 2010 at the High Court in Edinburgh for killing a Perth taxi driver on Dundee's Kingsway on March 15 2009.
He had been consuming alcohol in the company of his now ex-partner and friends in the afternoon and evening before the fatal collision.
Around midnight he returned by taxi to his ex-partner's flat before going out again to a nightclub.
Sometime before 2.30am he returned to the flat and removed the keys to his ex-partner's BMW without her permission or knowledge and drove off.
He then sped down the Kingsway and smashed into a taxi.
The impact at the Myrekirk Roundabout spun 41-year-old Gavin McCabe's cab around and catapulted him out on to the road.
Mr McCabe was so seriously injured he died in intensive care at Ninewells Hospital a week later.
Investigating officers calculated Cholmeley was travelling at a minimum speed of 77mph shortly before the collision and at around 67mph at the point of impact with the Skoda taxi.
Cholmeley's alcohol level after the collision was 106 mgs against a legal limit of 80 mgs.
Several witnesses — civilian, emergency services and medical staff — stated Cholmeley said it had been his intention to commit suicide.